Yahoo! India's English
About a year ago iPrash blogged about Yahoo! India's Pune pages, which feature the set of eight Ganpati temples known as Ashtavinayak (eight Vinayak — Vinayak being another name for Ganpati). As a child I visited seven of the eight temples, hence my interest in the subject. He wrote:
Then there is Ashtavinayak Darshan, which has all the facts & figures. The content was Not directly Copy-Pasted from any other existing websites… However, the content writer has done a good job of altering the original content, sentence by sentence. No harm in that, because, Yahoo India is doing a good job of having all this information online.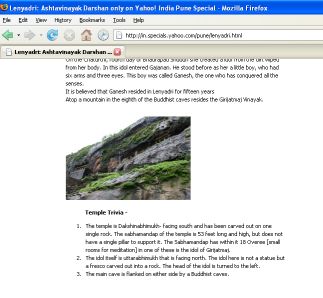 I don't know what he saw then or why he made that observation, but a page I see today is worth plugging into Copyscape. A whole bunch of sites seem to have copied bits of the Yahoo content.
Not that it is worth copying.
The quality of English in India has gone downhill since I left it 34 years ago. Mine was also less than perfect, but I had the good fortune to land a job as Senior Editor at Unisys that filled in the gaps. Unisys had a great Product Information department that produced shelves full of style guides and other editorial aids.
Thanks to the returned H1B visa holders, the outsourcing industry, the call centres and the influence of the Internet, many young Indians don't know whether they are using American English or the mutated British English that is passed off as Indian English. Have you noticed that Indian mums have become moms?
Anyway, back to Yahoo! India. Witness this paragraph from this page (bolding mine):
Ultimately he undertook a sever penance at the site of the temple and attained the blessings of Lord Ganesha, owing to which he attained success in his endeavor. As a token of appreciation Lord Vishnu built a temple in Ganesha honor at the sight where he had offered his obeisance. Over the yugas the temple went to ruins and was reconstructed when a shepard found the lords idol lying among the debris. The temple received the patronage of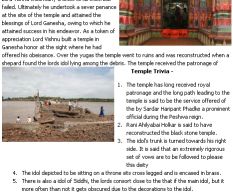 (We won't find out whose patronage it was, as the sentence ends there, leaving us in suspense. The rest of the Ashtavinayak pages are replete with similar errors.)
Frankly, those pages do an injustice to Yahoo!, the English language and the deity they seek to honour. I don't mind the Indian Yahoos pleasing their American masters with the use of American English, but get it right, one way or the other. Yahoo! has some fine editors in the US office — use their guidance.