StumbleUpon leans on BlogCatalog group administrator
StumbleUpon (SU) is a recommendation (rating) engine. Its users "stumble", that is, vote for a web page they like. The theory is that most people will recommend pages that most people will consider to be interesting. The reality is that most people who use the web have probably not heard of SU and the ones who have are likely to stumble their own pages or those of their clients. SEOs and anyone who fancies themselves as a social media consultant are heavy users of the SU toolbar, which makes it easy to recommend or thumb down a page while you are looking at it.
So what's the point to SU? I am not entirely sure, but eBay bought it for US$75M in 2007 and sold it in 2009 for an undisclosed sum back to its founders and some VCs. That was great for the founders but what about the web surfer population? I still don't know.
When I enable the SU toolbar (I have to login), SU knows my surfing patterns and probably stores the information. If I am the first to flag a site, I get to write a review, but this is always an option for subsequent surfers. I have stumbled fewer than 40 sites, usually when I am reminded about SU by some tweet. SU links are no-followed, so there is no SEO value in the exercise, but there is some traffic value if you get enough votes and rise to the top.
My mind isn't so vacant that I need the SU toolbar to find me a random, cool site to visit, but I believe there are many people who need such guidance. Each to their own.
BlogCatalog Group
Hartley B. Singer of Winnipeg is (for a few more hours) the administrator of a BlogCatalog group called Stumble.  I am not a member of that group. A few hours ago Hart announced that he is closing down the group because SU suspended his account indefinitely. To quote Hart's post at BlogCatalog in part:
Your StumbleUpon account privileges have been restricted and the account is under review.

When I enquired to WHY I was under review and my account privileges have been restricted .. I received this reply:

Your account has been suspended for a violation of our TOS, which may be viewed here: www.stumbleupon.com/terms/

A list of the most common reasons for an account being suspended may be found here: www.stumbleupon.com/help/What_caused_my_account_to_be_suspended/

I have reviewed the account in question and must advise you that the suspension will remain in force indefinitely.

You may find it useful to share a link to our Terms in this group – www.blogcatalog.com/group/stumble/ – since other members may also find themselves in breach of our Terms, and their accounts subject to suspension.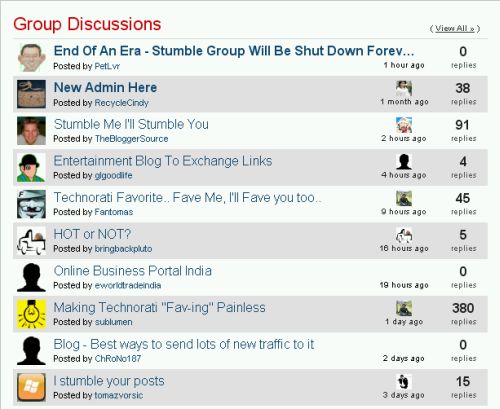 It's fine for SU to set whatever TOS they want and most people will agree that getting votes artificially doesn't help anyone. SU doesn't want its asset to be devalued by spammy votes. Fair enough.
However, I consider their approach heavy-handed and tantamount to bullying (stronger words come to mind). What happened to the friendly-but-firm approach of sending a warning email?
So, the SU accounts of about 4,592 people are under review and possible suspension just because they joined a BlogCatalog group? What do you think?