Norton Security Roundup 2009
Over the years, you may have heard of or used computer security programs from Symantec under the Norton brand. At one time you needed only an antivirus program. Later came firewalls and antispyware programs. Touch wood, I have never been affected by a virus, Trojan or other nasty program, but of late I have found an increasing number of alerts from websites that look normal. Google staff have warned about an unprecedented increase in malicious files that will harm you or someone else through your computer. When I browse Google search results, I see these warning signs every day, thanks to Norton Internet Security 2009, which I have been using since last November. Recently I had the chance to check out the other two offerings.
Which Norton security program is right for you? Symantec offers three:
Norton 360 Version 3.0
Norton Internet Security 2009
Norton AntiVirus 2009
Here is an abbreviated list of the main features and differences between the three products:


To get a better idea, please see the complete list of features at Symantec.com: http://is.gd/uCrv
Symantec Norton products have been unpopular in the past for being resource hogs. This changed with the release of these 2009 versions. Everything they do is quicker – system antivirus scan time, email checking, downloading an update – you name it. In this review, please check the chart above to see whether the feature is included in a given program.
Requirements
You need Windows XP SP2 or later or Windows Vista. For email scanning, you need to use a mail program that can handle the usual POP3 and SMTP protocols. Both Internet Explorer 6.0 and Firefox 2.0 or later browsers are supported.
Installation
The programs all installed in about a minute, which made me wonder if something had gone wrong. This is by design – Symantec built their own installer instead of using Microsoft MSI code. Although you only install once, it shows that all parts of the programs have been revamped.
User Interface
For most people, you are going to configure some settings once and then you will not see the user interface until a problem is reported.  The default settings are probably fine for most people – I didn't need to change much, so the main message is that they are all easy to use.
Home Network View
You can view other computers in your home network and determine their security status. You have to go to each PC and enable it to be seen from the other PCs.
PC Security
PC Security is the heart of the application suite. It covers the following essential tasks:
Protect against viruses, spyware and other risks.
Act as a smart firewall to block intrusions over the network and the Internet.
LiveUpdate, which fetches the latest updates for Norton 360.
Email scanning, which checks incoming and outgoing email for dangerous attachments and infections.
Checks your Windows Update settings.
Scans your instant messenger attachments for dangerous payloads.
Checks for weak passwords.
Checks your browser for vulnerabilities.
Checks your network addresses for possible hijack.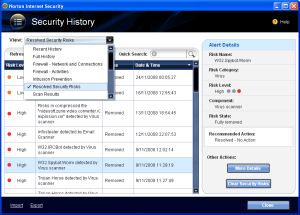 Norton Internet Security has fixed a few problems on this PC

Identity Protection
Norton Safe Web. You are protected when you surf the Web. Many websites contain infected pages or links to infected programs or files. If you go to such a site, you get a warning telling you to leave this site immediately. If you are looking at a page of Google search results, you will see a red or orange mark next to each entry, signifying a serious problem with the site. Untested sites show a question mark.
Antiphishing. If you were to click a link in a phishing email from what purports to be your bank, your Norton-protected browser will try to stop you from visiting a known phishing site.
Identity Safe. You can save your passwords and personal information in this electronic safe
PC Tuneup
Startup Manager. You can see information about the programs that start with your PC and either turn them off or delay their start. This is great news for people like me with dozens of programs that I don't need to run immediately upon startup, or at all.
Diagnostic Report. You can generate an extremely detailed report on more than you want to know about your PC and every program on it and view it in a browser, so that you can save its contents to a file for later reference. This report also includes the dates when you installed and uninstalled a program and when the PC performed a system checkpoint.
File Cleanup. You can delete temporary files created by web browsing and while installing programs.
Disk Optimisation. You can re-arrange fragmented files and speed up your PC.
Backup & Restore
You can back up your files to a CD, DVD, USB drive or an external hard disk, including mapped network drives. You can even back up to Symantec's Web-based drive, with a limit of 2 GB. You can restore from those locations should the need arise.
Norton Insight
The file-checking programs do not scan all files on a PC based on community-based whitelisting. If thousands of other people are using a certain file without any problem then it is whitelisted and omitted from a scan.
Anti-Spam
The anti-spam feature works with Microsoft Outlook Express and Outlook but not with Windows Mail, which you get with Windows Vista.
Free Technical Support
Norton technical support is now free, something that is rare with commercial software. You are expected to exhaust online help and then fill out a contact form before the phone number is revealed. I noticed something interesting about the 366-day duration of the licence. I installed Norton 360 on one machine three days after installing it on another PC and saw that it had only 363 days left. This is because the product key is the identifying factor, not the PC. This is not surprising or unreasonable, but if you get a product with a 3-PC licence, install them all on the same day to get the full coverage. When I last reviewed Norton 360 in 2007, there were three product keys. I imagine this is to deter three friends buying a three-pack to save some money.
In Use
Once configured, the Norton programs can be left to do the job. I found a few infected files on the home PCs although they had not been activated. If I visit an unknown website to download something, I don't open the compressed file until Norton 360 has scanned it.
Availability
You will get the Norton 360 3-user pack from various outlets around the $130 mark including GST. Norton Internet Security 2009 sells for about $85 for one user but only $95 for three users. A single-user copy of Norton AntiVirus 2009 sells for about $44. The programs are available in several pack sizes to suit small offices and sole users. You can also buy them from www.symantec.com.au and other online stores.
Conclusion
As you can see, Norton 360 gives you all the features, but Norton Internet Security is the minimum level of protection you should get. Norton AntiVirus can be used for PCs where you have already purchased other software for the missing features.