Review: Market Samurai affiliate marketing tool at a discount
Arguably the most comprehensive SEO tool on the market, Market Samurai is an affordable, must-have research and management aid for the affiliate marketing expert and novice alike.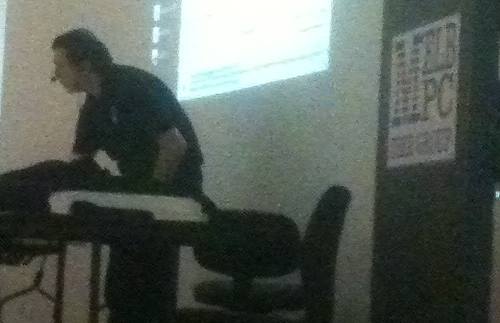 Yesterday, more than 150 people were privileged to see a presentation of Market Samurai by Eugene Ware of Noble Samurai, the company behind the tool. Speaking at the Affiliate Marketing SIG of the Melbourne PC User Group, Eugene went through the basics of using this tool that is rapidly catching the interest of affiliate marketers everywhere.

His presentation was largely based on a video in the Noble Samurai Dojo, entitled 4 Golden Rules Case Study. Be sure to watch it to see how easy it is to use the tool to find and refine keywords, then monetise them.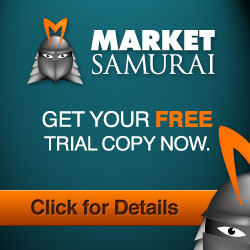 Market Samurai takes a pragmatic look at keyword research. Most keywords have little to no traffic; therefore, you should find the ones with significant traffic. Also bear in mind that many searches are never clicked, e.g. single-word clicks may produce irrelevant results, so none are clicked, but the word will show a large search volume.
Traffic alone is not enough; you need keywords with commercial intent. They are the ones that will convert to a desired action, be it a sale, a trial signup or completion of a lead form. Not surprisingly, most of these converting keywords are extremely competitive and their websites are optimised to the hilt. Therefore, a tool such as Market Samurai can help you to find the hidden nuggets.
The tutorial identifies Four Golden Rules of keyword research:
Relevance. Find keywords relevant to the content of your site.
Traffic. Targeted traffic is better than lots of traffic.
Competition. The level of competition must be acceptable but not too high.
Commerciality. The keywords must be highly commercial.
Keyword Research
The keyword research tool first lets you eliminate irrelevant phrases as negative keywords. You further refine the list by selecting positive keywords – ones that contain a specific word of interest. You can also eliminate by phrase length, for example, single words and phrases longer than four would be a good strategy for most situations.
Sometimes you may see an unusual phrase that you might be tempted to use simply because Google has found it for you. This could lead to a costly, wild-goose chase if you built a website around this phrase.
Market Samurai coined the term SEO Traffic (SEOT) to suggest the number of visitors a #1 ranking site could expect in a day. It has determined 80 to be the threshold for useful keywords, so you can filter out low traffic potential phrases.
It also coined Phrase to Broad Match Ratio (PBR) to eliminate misleading keywords (shown in the wrong order in the Google Keyword tool) that may come up in a Google Keyword Tool result. By generating permutations of a phrase and comparing the number of searches for each permutation, it can help you eliminate misleading phrases that have a low PBR.
Sometimes all keyword permutations have a low PBR. This indicates a missing word in the phrase, which can happen in an unfamiliar niche. You want to find phrases with a high PBR.
To determine an adequate but not excessive level of competition, Market Samurai defines SEO Competition (SEOC) as the total number of web pages that mention a keyword in the same word order. Choosing a threshold of 30,000 pages is an adequate level of competition.
To determine commerciality of a keyword, Market Samurai takes the SEOT and multiplies it by the Google AdWords Cost Per Click value. It calls this the SEO Value (SEOV). This becomes another filter for eliminating phrase below a certain value.
SEO Competition
Once you have selected a keyword to target, the Seo Competition tab lets you find top ranking pages with a certain minimum number of backlinks. The default maximum of 1000 backlinks keeps the list to a manageable number. You can choose to see Off-Page factors such as Domain Age, PageRank, Google index count, Backlinks to the page, Backlinks to the domain, .edu/.gov backlinks, Whether the site is in the DMOZ and Yahoo directories.
It also lets you select On-Page factors such as Keyword in title, Keyword in URL, Keyword in meta description, Keyword in Heading, and age of Google cache. The results are in green for "easy to compete", yellow for "harder to compete" and red for "hardest to compete". In theory, if more columns show green, you should treat that URL as a competitor to replace. Of course, your new micro site is unlikely to unseat anyone in the first two pages for a very competitive term, but it's good to know the competition.
Domains
The new Domains module is also available separately as Domain Samurai (a free download). It requires you to have affiliate accounts at web hosting and domain name name companies.
Monetisation
You can find products to sell based on your keywords from places such as Amazon, ClickBank, CJ and PayDotCom. You can also generate dynamic ads based on your keywords. For example, Amazon finds a few products for you to choose, already embedded with your -20 affiliate ID. Or you can make eBay banners of various sizes and paste the code where you wish.
Find Content
If you like to find articles to republish, you can search EzineArticles, ArticleCity, Go-Articles, ConstantContent and Wikipedia. You can search with Google Blog Search and Technorati; images and videos on Flickr and YouTube; and miscellaneous stuff from Scribd, Google/Yahoo News and Yahoo Answers.
Publish Content
This is an odd feature to have in the product but it lets you publish content to your WordPress blog as a post, page or widget.
Promotion
A major requirement for SEO success is backlinks. Domain Samurai's Promotion module lets you find other sites that might be able to give you links to your site.  They include Squidoo, Hubpages, Weebly, Scribd, Yahoo Answers. forums, and so on.
Market Samurai Discount
The discount? When you install the trial copy, for a few days you will see an offer to buy at $97, instead of the normal $147.
The Market Samurai website has a wealth of useful resources for the online marketer. The user guide is presented as a list of video tutorials in a virtual Dojo, with nine dedicated to keyword research. Full transcripts are also included. You can download a free trial that gives you full functionality for 12 days, but thereafter the keywords tool and all the videos are available even if you don't buy.
You can download it here.