Snap Yourself with Quik Pod Pro+
by Ash Nallawalla
In most photographs you, the photographer, are missing. More than once I have taken a photo of the sky when my camera fell from some precarious perch after the self-timer was set. That's because it isn't always convenient to take a full-size tripod on your holidays.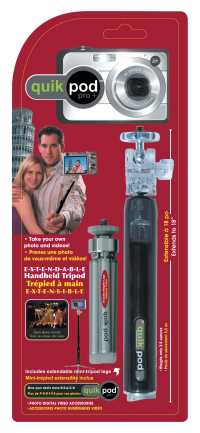 Sometimes, all you want is to take your own photo at some exotic location, but many modern cameras will not even fit your whole face when you click at arm's length. You can ask someone to take your photo and hope that they framed it properly and didn't shake the camera, but nothing beats a tripod.
Enter the Quik Pod, a handheld, extendable tripod that costs around US$24.95 plus shipping. It is made of sturdy polycarbonate and aluminium, weighs about 100 g and comes with a built in self-positioning mirror to help frame each shot. Fully extended to 480 mm, Quik Pod can be used to shoot overhead above crowds, around corners and underwater.
The Pro+ version adds a lightweight tripod leg adapter to turn the Quik Pod into a conventional tripod or to use as a mini-tripod on its own. Both feature a standard (1/4-20) screw. You would not want to use any camera heavier than 450 g on this tripod.
Availability
In the U.S., Quik Pod can be found at Adorama, Amazon.com, B&H, Calumet Photographic, J&R.com, Magellan's and Ritz Camera. In Canada, it can be bought at Black' Photography, Henry's and The Shopping Channel. In the UK, Quik Pod can be purchased at Play.com, Magellan's and through iwantoneofthose.com. A direct link to the Quik Pod at Amazon is: http://snipurl.com/1junj.
In Australia, dStore.com.au sells it for $39.95. Be sure to check whether you are getting the basic model, the Deluxe, or the Pro+ because the online stores are vague on this point and never show more than one. The company site shows the Deluxe and Pro+ extras as separate kits, yet one of the blister packs shows the mini-tripod as included.
I am very happy with the Quik Pod Pro+ and that is the model you should look for.