Google PlaceRank in the wild
Google has sent QR Code stickers to about 190,000 businesses across the US that have been tagged as a Favorite Place (they have a mobile version of their website). Favorite Places are the mobile equivalent of Place Pages (aka Google Places).
[youtube]http://www.youtube.com/watch?v=zuVSpG-ZdkU[/youtube]
Google Video explaining Favorite Places
TechCrunch has quoted Google Earth VP John Hanke, "Google will be adding these businesses incrementally. 'They are selected based on their PlaceRank,' says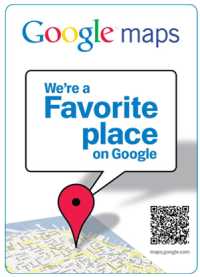 John Hanke, VP of Google Earth, Maps, and Local. PlaceRank is like PageRank for places It tries to figure out how prominent a place is based on factors such as 'references on the Web, reviews, photos,' says Hanke, 'how many people know about it, how long its been around.'"
PlaceRank isn't new – but I believe this is the first acknowledgment of its use with Google Maps in a local search context. Bill Slawski reported it back in 2007 in this post, which is well worth reading (like the rest of his site). Here is a link to the patent that describes Place Rank (two words) and Interestingness.
Undoubtedly, Local Search SEOs will be excited by a new unit of measure (will we get another green pixel bar? – I think not). I think this is a good move, but are Americans and the West in general ready to use QR Codes?
How to SEO for PlaceRank
The patent offers some clues about the ranking algorithm.
[0047] In an embodiment, this ranking, which can be referred to as place rank, is computed based on the weighted contributions of various non-cartographic meta attributes about a geospatial entity. Rather than directly measuring a characteristic of a physical place, such as its population, these attributes reflect traits of abstractions or representations associated with the geospatial entity. Examples include an attribute of a description of an entity (for instance, the amount of detail in the description of an entity or the number of times a description has been viewed), an attribute of a definition of an entity (e.g. the context or downloads of a definition of an entity, or attributes about the creation of an entity in a public forum), an indicator of the popularity of a geospatial entity (such as the number of views, downloads, or clicks on the entity or a placemark associated with the entity or an attribute based on a ranking or score assigned to an entity), or the relationship of an entity to its context, such as the category to which an entity belongs. Attributes that fit into each of these categories are described in greater detail below:
Here is my summation of the ranking detail in the patent:
Longer descriptions are preferred. Very short descriptions might incur a penalty.
The author of the Favorite Place content, that is, their authoritativeness can matter, e.g. a trusted provider of data versus a random individual.
The context of the Favorite Place mention, e.g. a discussion in the Google Earth community.
The number of replies in the above thread.
The number of clicks to a linked Favorite Place.
The number of views of a Favorite Place.
The community stature of the author e.g. number of posts, rank etc (really?)
The number of Favorite Places within a collection of Favorite Places, which I believe could be a shopping mall with lots of recommendations. MallRank anyone?
Age of the original recommendation.
The relative importance of the discussion within a thread – the subsequent posts might contain additional information, or even substantially more information. This score is added to the original post.
The relative importance of a sub-forum within a forum, e.g. a post in the What's New forum might get a lower score than a post in a more "permanent" sub-forum.
An externally awarded score to a forum, e.g. a rating value, number of stars, and so on.
The density of forums in a geo-spatial context, e.g. the score for a San Francisco restaurant may place more importance on ratings gained from San Francisco-centric sites than from sites in other cities.
The click-through rate of an entity, e.g. a Google Group discussion of pizza shops might contain links to various outlets. The CTR data would be available to the algorithm.
The enablement rate of entity categories. e.g. On some maps you can choose to display or not display certain markers, e.g. schools, banks, churches, etc. Android GPS devices could be used to collect this information.
The estimated score for a web page associated with an entity, such as its PageRank.
Some of the above factors could be combined to derive a score for each entity.
So, there are numerous factors in this algorithm that might seem too complicated for an individual SEO to influence, which basically suggests that gaming PlaceRank will be very difficult. 🙂