Grill'd by Nando's – how a PR gaffe is a win:win for competitor
Grill'd is a burger restaurant chain in Australia, where their recent marketing campaign consisted of an ad in a printed university newspaper. So far, so good. Then their fans spread the love by sharing this ad in electronic format: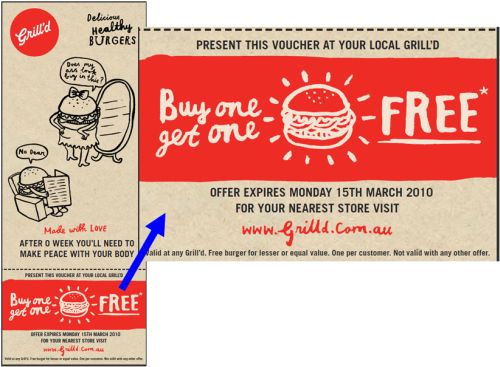 Instead of sizzling, the love fizzled. Grill'd customers who flocked to the restaurants with a printout of the scans were dismayed to be denied the buy-one-get-one-free offer because they didn't bring the original newspaper. The Grill'd blog tried to explain:
Uni Times 2 for 1 Voucher Offer

We've been inundated recently with people trying to redeem a 2 for 1 burger offer that has been doing the rounds via email. The 2 for 1 burger offer originated from the current print edition of the Uni Times Magazine (a magazine for Victorian Uni Students) and we only ever expected for this voucher to be available for readers of the print publication, and not available online.

The Uni Times 2 for 1 offer was intended to be limited to the readership of the Uni Times publication – otherwise we wouldn't have been able to offer it at all – All vouchers from the printed publication will be honoured. To get the real voucher just pickup a free copy of Uni Times from any of these locations. We hope all of our customers can appreciate the good faith in which the offer was released, and that neither Grill'd or its loyal customers will win in the long run if we allow digital copies or scans to be honoured for printed offers such as this. We know a lot of our loyal Grill'd fans have received electronic versions of the offer and we apologise for this, but we hope you understand that this was never our intention.
Logical, at best. All marketing campaigns need to have certain rules and players have to abide by them, so that both buyer and seller are happy. So far so good.
However, the scanned image I saw does not mention anything about digital copies being invalid. There was a storm of protests as comments below the blog post starting at 9:17 am on the 24th by Brendox, who said:
However legally, I believe you must honour the voucher as there is nothing indicating that print outs cannot be used.
That was followed by dozens of comments, with varying degrees of passion and colourful language. By 2:21 pm Nandos_FTW (either an employee or fan) commented:
"Nando's honours Grill'd vouchers…" Go nandos! HAHA this is too funny! <http://www.nandos.com.au/article.php?newsid=94&newspage=0>
Not missing an opportunity, Urban Burger must have thought of the same thing at the same time, as the post by I Love UB went up a mere 40 seconds later:
I have just heard that Urban Burger will be honouring the Grill'd vouchers. Just take them into any store and you can get the 2 for 1 offer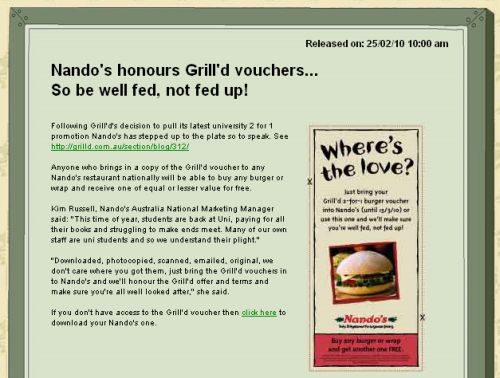 By yesterday, the comment thread was deteriorating, with allegations of comments being deleted and even some Nigerian "419" type scam posts!
At some time after 4:19 pm on 25/2, Grill'd had enough grilling and they closed comments on the blog with this announcement:

Oh, to be a fly on the wall in the Grill'd marketing bunker this morning.
The lessons to be learnt from this case study are too obvious to list here, but I can see this incident being relived in hundreds of marketing presentations for some time to come.