Looking for local results?
This is not news in North America, where Google introduced last July an input field for your postcode or suburb presumably so that subsequent results would be localised for you. I just saw it for the first time in Australia.
This appears to be a test, as I could not reproduce it for other words I tried, e.g. pillows. It would seem that certain words have been identified as "local shopping" keywords, and Google would like to display results that it presumes come from local businesses.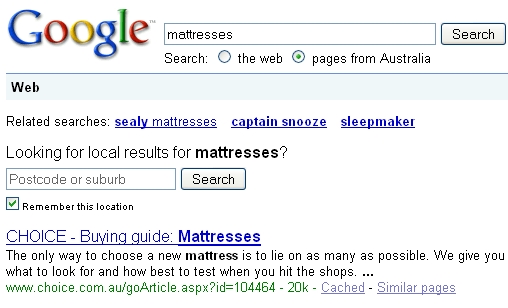 For a normal search, the URL is:
http://www.google.com.au/search?num=100&hl=en&newwindow=1&q=mattresses&btnG=Search&meta=
When I add a postcode, the URL becomes:
http://www.google.com.au/search?oi=local&ct=location-input-top&q=mattresses&num=100&site=search&hl=en&newwindow=1&output=search&sa=G&near=3000
I didn't notice any difference in the SERP other than the input box disappeared after I nominated my postcode, so this test might be limited to seeing how many people use it.
Nonetheless, this supports my previous post that SEO will get harder as more and more users begin to localise their results. They don't need to log in but some people will not remember many months later that they had localised their Google experience.