PowerDVD Copy – Review
by Ash Nallawalla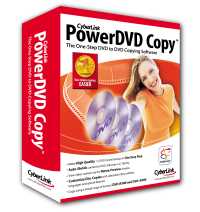 CyberLink PowerDVD Copy is a simple program with one purpose – it enables you to copy a DVD. More precisely, the DVD must not have any copy protection on it. The majority of Western movies these days are protected, but home-made or non-commercial videos are not. The program will not copy a data DVD – it must be a video DVD.
You can back up the DVD to your PC's hard drive – which is commonly done by overseas travellers who take a laptop on the plane. Spinning a hard drive seems to consume less battery power than spinning a DVD drive, but I have not explored that theory in depth.
You can copy a DVD9 (8.5 GB) dual-layer DVD to a DVD5 (4.7 GB) using compression or you can customise the compression. Compression reduces picture quality, so, for example, if your video was 6 GB in size, there is no need to go for 50 percent compression when copying to a DVD5 disc. The Auto Fit option takes away any guesswork, so you don't need to work out the optimum compression ratio.
Certain movies have additional language tracks and you can choose not to copy them, saving some space. Similarly, you can filter out unwanted subtitles, as is seen in Asian versions of videos.
The interface gives a preview window so you can see what file you have selected. If this is the first time you have copied a DVD you may get confused by the various file names, so this preview feature is useful.
PowerDVD Copy "works with Windows Vista" and does not carry the "Certified for Windows Vista" label. I tested it on Windows XP. It works on versions from Windows 98SE onwards. You can order it online for US$39.95 or download a trial version.