Iolo System Mechanic 7 Professional – Review
by Ash Nallawalla
System Mechanic 7 Professional (SM7Pro) is a suite of security, maintenance and diagnostic programs by Iolo. It works with Microsoft Windows 98, ME, 2000, XP and Vista. I tested it on Windows XP.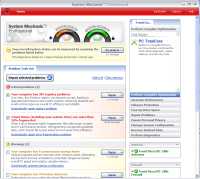 SM7Pro includes the following programs:
System Mechanic 7 – (Described later)
iolo AntiVirus – It provides email and disk protection from computer viruses.
iolo Personal Firewall – It is a bi-directional firewall that stops unwanted people or programs from accessing your PC.
Search and Recover 4 – It recovers deleted files, apparently even "years after the data was lost".
DriveScrubber 3 – It wipes clean your hard drive to the standards of the US Department of Defense.
I did not install the AntiVirus and Firewall, because removing and restoring my existing software takes a long time and I am not in a position to test these features in a controlled environment.
Search and Recover 4
I let it loose on a 30 GB partition and it estimated initially it would take about 90 minutes to find deleted files. This estimate kept increasing and it looked like it might run all night. Unlike other file recovery programs, it appears to undelete seemingly impossible things, such as individuals email, calendar tasks, notes and so on.
At the 30 percent mark, it had found 25,000 deleted files plus 92,000 others that were filtered out. The latter includes temporary file fragments that you won't want to worry about. The process ended sometime while I was in bed and it found almost 29,000 files, with a prognosis of "Fair", "Unknown" or "Good". Only about 30 files were marked "Good". I think I had deleted them about three months ago. I restored a file that was 238 MB in size and it opened as expected. I defragment my drives regularly, which may explain why so few recoverable files were found.
Drive Scrubber 3
This wipes an entire drive or just the free space on a drive. I let the latter loose on my 23 GB download drive that is never backed up. It took about seven hours. I have no way of knowing how well the drive was scrubbed. If you have truly incriminating evidence on your drives, I suggest doing what the Feds do – pulverise the disk platters into tiny fragments.
System Mechanic 7
This is the core functionality that you are buying and it is very reassuring because it spouts these large numbers of things it fixes – broken shortcuts, invalid uninstallers, registry problems, recovered memory, dangerous and unnecessary startup problems, Internet clutter fixed, and so on. Honestly, I could not tell if my PC was working faster or if I was better protected, but it certainly felt reassuring to be free of all these negative bits and bytes.
A feature called SafetyNet enables you to undo SM actions, in case you deleted something in error.
The only feature I was able to compare one day after the initial cleanup (I used the PC quite a bit) was detection of spyware. SM7 found only two (I couldn't tell which ones they were) while Spybot Search & Destroy (a free program) found nearly 100 instances in 13 categories. After Spybot had removed them all, a re-scan with SM7 still saw two spyware parasites. I let it remove these unidentifiable nasties and had sound sleep.
I was a little sceptical about its complaint that I had "never" backed up the Registry. After letting SM7Pro do this backup, I also backed it up with Spybot 1.4 a few days later. Today, SM7Pro sent me a ActiveCare E-Mail Report saying that I had never backed up the Registry:
Critical problems (2)

Your computer has 3.23 GB of system clutter.
With regular usage, temporary files and other unneeded debris accumulate. It is recommended that excessive amounts of system clutter be deleted to reclaim disk space and speed overall processing.

Your computer has 7 registry problems.
Over time, the Windows registry can become corrupt, leading to degraded performance and system crashes. Removing obsolete and invalid entries improves overall PC efficiency and stability.

Warnings (4)

Your computer has 1 unnecessary startup item
Various programs and services load when Windows starts. Eliminating startup items that are unneeded or potentially dangerous boosts overall PC speed and reclaims valuable memory.

2 of your hard drives are more than 19% fragmented
When a drive becomes highly fragmented, files take longer to open and PC performance declines. Defragmenting reorganizes scattered data, which boosts file access speed and increases drive efficiency.

Your computer has 41 broken shortcuts
Broken shortcuts occur when the target files have been moved or deleted. Repairing these shortcuts speeds processing and eliminates unexpected errors.

The registry has never been backed up
The Windows registry is vital to your computer's ability to run correctly. Backups allow you to restore the registry if it ever becomes damaged. It is recommended that you back up the registry every 14 days.
Conclusion
Overall, SM7Pro is a very useful suite of programs. You can buy SM7Pro online from www.iolo.com for US$69.95. Just SM7 costs US$49.95.