Pubcon 2007: Link Building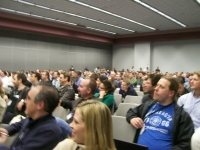 Jim Boykin said that natural links always work and presented a "1000 day linking plan":
Day 1: Submit to good directories, such as Best of the Web, Yahoo and industry verticals.
Day 2: Submit comments on blogs and write forum posts.
Day 3: Buy ads in industry portals.
Days 4-20: Write linkbait articles, give away tools, widgets.
Days 21-31: Analyse competitors' backlinks and solicit for your site. Use tools such as Hubfinder by Aaron Wall, or manually using Yahoo. Check the site's PR, check the Google cache and decide if it is a good link.
Days 32-1000: Search for related web pages. Prove you are a human – phone the other site's owner or email with something more than a link request. Why is a link beneficial to them?
Jim then spoke about Link Value, which includes:
Relevance
Age of site
Number of backlinks
Site's trust (how many links from .gov/.edu?)
Interlinks within this site to and from the page in question
Blogs do not give good backlinks
Other sites should also link to the link-providing page
Who else is getting a link from that page?
Where is your link on the page – do you have to write content for that page?
Greg Hartnett from BOTW spoke about Link Building Via Directories. They are not "paid links" but are "reviews". He described "good directories" as follows:
They have an history
They are great resources
Their categories are populated (not empty stubs)
They are designed for the user
They add unpaid submissions if they are good resources
Traffic to directories is low volume but targeted.
Some directories will take multiple submissions from a site. CNN is mentioned 745 times in the ODP.
Are the Yahoo Directory, BOTW worth the expense? Yes. Will my site get included? Not if it fails the review.
The best directories are:
Yahoo
ODP
BOTW
Business.com
Rae Hoffman of sugarrae.com spoke about Delegating Link Development.
Rae prefers to do linking in-house than to outsource it. If you have to outsource, create a training document for their staff. It would contain material including:
A list of your competitors
Guidelines for reciprocal links
Sample emails to send on your behalf
Train your linkers to be traffic developers and marketers, not link developers. Give them a low-value site to begin with and observe them.
Roger Montti of martinibuster.net spoke about Alternative Link Building.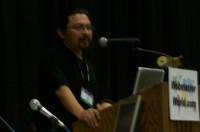 Roger has a linking team in India and one in the US. He is Bcc'd on each link request they send out, so that he can monitor their work and make suggestions.
One source is buying an ad in an emailed newsletter, if the newsletter is also archived online – you get a permanent link!
He suggested finding complementary (relevant) blogs via BOTW and other listings and then contacting the owner asking if they sold advertising (not links). Some of them don't mention this but they might have AdSense blocks halfway down the page, so they want to make money. Good sources are ones that make no mention of PageRank, do not have ads for irrelevant websites, and offer a year-long deal.
You can try to sponsor small nonprofits, especially .org sites. YouTube videos can contain links and may send human traffic.
To find such sites, try the following searches:
"advertise with us" [your keyphrase] -cpm
"rate card" -"cpm advertising"
allintitle:sponsors -cpm site:.org [your keyphrase]
Another option is to buy a neglected, under-performing site that you can improve. You could build a site for a charity in return for links, but they tend to be demanding customers because you work for free.
If your site is a software company that makes shareware, then there are numerous download sites where you can submit PAD files.