SEO and what Kogan is doing right
If you haven't heard of the Kogan brand or its founder, Ruslan Kogan, you will, sooner or later. Ruslan describes himself as coming from a Housing Commission flat in Melbourne (welfare housing scheme). He is totally street smart and has made a name for himself in Australia and UK as an online purveyor of  electronics (and a furniture brand). I have heard him speak at a journo junket and on TV — he is always entertaining.
At the Professional eBay Sellers Alliance (PeSA) conference that just ended at the Gold Coast Convention Centre on Friday, Ruslan entertained the 600+ audience on Wednesday with the story of his business journey and some valuable tips that he had learnt.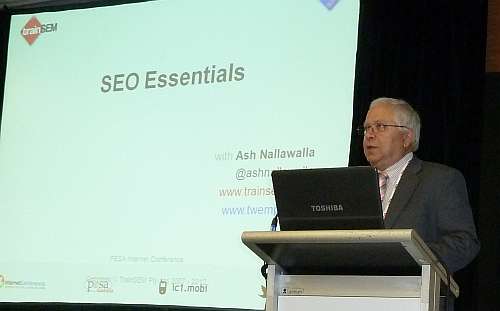 Ruslan also gave his views on SEO and CRO agencies, which were interpreted by the audience in a couple of ways. The people at my table and I took them to mean, "Don't worry about SEO; get your online business right. Offer a differentiator and provide a value-add." I can't recall his exact words, but they left an impression on some that SEO wasn't at all important and that Ruslan didn't care much for SEO.
At a site review session on Friday, I was listening to the panel dissect a website and I tweeted as follows (Ruslan's reply follows mine, followed by Jim Stewart):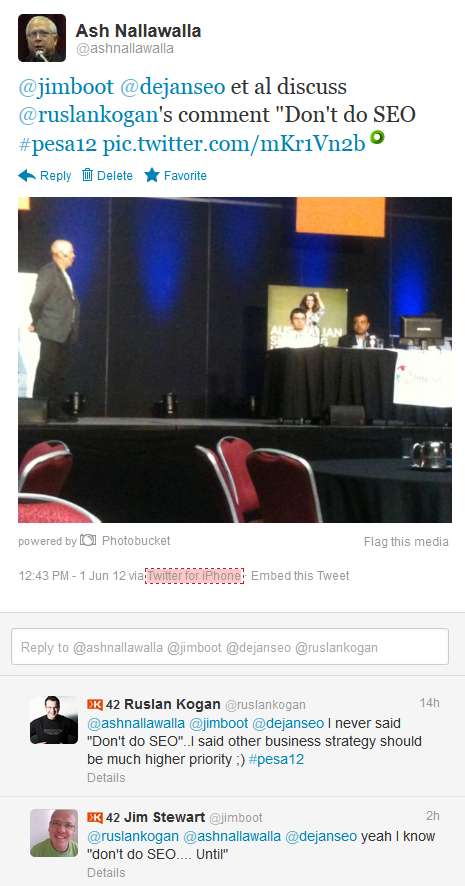 The panel consisted of Jim Stewart, Dan Petrovic, Bhauvik Tripathi and and Michael Jenkins. Their recollection of Ruslan's talk was essentially, "Don't do SEO".
All good natured fun. What do I make of all this?
First, Ruslan has achieved tremendous success at a young age by taking risks that most others would not contemplate. His first order for 80 TVs with a Chinese supplier was placed after he got a few credit cards and maxed them out. That's where most of us would have failed, because risk-taking differs from person to person. He understands the news media and has used them effectively, while growing his business by offering products that people want at a good price.
Take for example, the Apple iPhone 4s. He sells an unlocked, 16 GB model for $689 plus delivery, while the Apple Store wants $799 for the same thing but with free shipping. He also stocks other prominent brands. Then he has dozens of Kogan-branded mobile devices, appliances and TVs that cost a lot less than the usual Japanese brands. Depending on when you look at the site, you will see a sale taking place by way of a small popup at the bottom left of the screen. On this Saturday morning, there was one roughly every five minutes.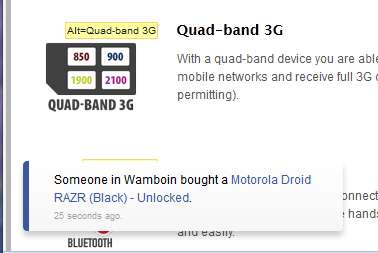 Where's the SEO?
I took a look at the new kogan.com website. I cannot see total adoption of SEO best practice, but does that matter? I'll come to that later.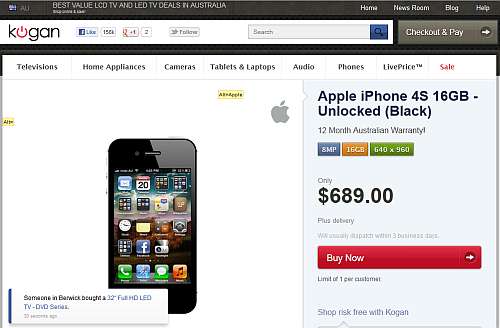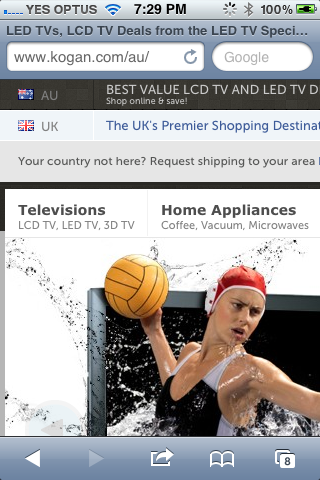 Title tag
The title tag reads, "Apple iPhone 4S 16 GB – Unlocked (Black) – Buy your Apple iPhone 4S 16 GB – Unlocked (Black) from Kogan Australia." The Kogan UK site has a different template and does not use HTML5 or use this repetitive format.
H1
I see pages with two H1s, something that will confuse vision-impaired users and search engines.
Alt tags
Images mostly have appropriate Alt attributes, but the main product image tag is empty.
Home Page URL
The home page redirects to http://www.kogan.com/au/ with a 302. Then you realise there is a kogan.com.au site as well.
Backlinks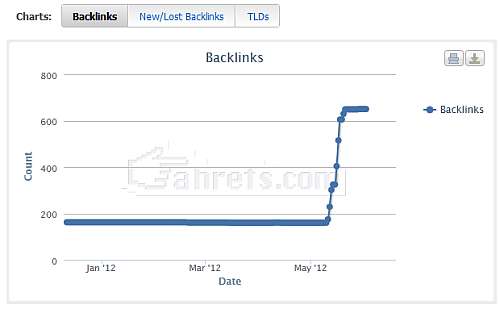 My heart skipped a beat when I saw the above link acquisition graph. Getting 400+ links in a couple of weeks would surely attract the Penguin, but almost all of them are internal, beginning on 11 May.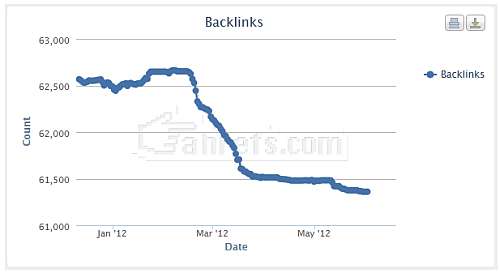 Canonicals
kogan.com.au has a lot more backlinks, but responds with a status code of 200 and a rel=canonical pointing to kogan.com/au. Where is that link juice going? At least the category pages are nicely 301'd to the other site.
Natural links
The real positive in all this are the thousands of natural links Kogan has attracted from users, review sites, news media sites, blogs and so on. There are plenty of social network signals too, which are used by Google and Bing for ranking. Word-of-mouth can make or break a business.
So what?
No two SEOs would agree on all possible tactics, so we see lots of variations among SEO implementations. At the same time, the Kogan sites show signs of search awareness that are not accidental. The 301s are an example of that.
The proof is in the eating of the pudding, so I tried a Google search for unlocked apple iphone and see two (?) Kogan AdWords ads on the first page and the first organic result at the bottom of page 3. I change it to unlocked iphone 4s and it gets worse. But there's a Google ad on page 1. I try 55 inch 3D LED TV, given that it's the current special. There's a Google ad again, but no organic result until around #50. I finally try a NIKKOR 18-200mm lens, (which I own) — same story, but no Google ad either.
At this point I am getting anxious to find a Kogan.com result in the top 10 and nearly find one. Samsung galaxy s3 unlocked has no Google ad but an organic result that could be treated as #10 if I ignore the video, news and image results. 🙂
I used my own search terms, not the "best" ones that a proper study might deliver.
I don't think I am recommending any particular course of action. Going back to Ruslan's speech, he stressed the importance of offering what customers want. SEOs would love to see their clients follow best practice all the time, yet business reality precludes that. Some commerce platforms are impractical to modify at a price, while other tactics are resisted on various grounds.
Businesses need to make their offering cheap, of merchantable quality, but fundamentally, what the customer wants. Paid advertising is expensive, but it buys visibility with more certainty than SEO in a very competitive space, such as Kogan's.
Finally, business leaders have to look at the bigger picture. Should they spend time with people who can bring an extra 10% traffic to their website, or with a supplier whose products will bring in an extra 10% revenue?