Yellow NZ is back with a bang
Earlier today, Yellow (Pages) New Zealand tweeted:
Have you checked out the new http://www.yellow.co.nz website? More relevant search results, a fancy new design & improved page load speed!
I confess to not keeping up with the Yellow Pages scene since leaving Sensis some 18 months ago. I had mentioned Yellow NZ a couple of times here and used to know some people there. I check all my Twitter unfollowers and noticed @yellownz had dumped me (probably because I wasn't following them).
Something about @yellownz's Twitter timeline caught my eye: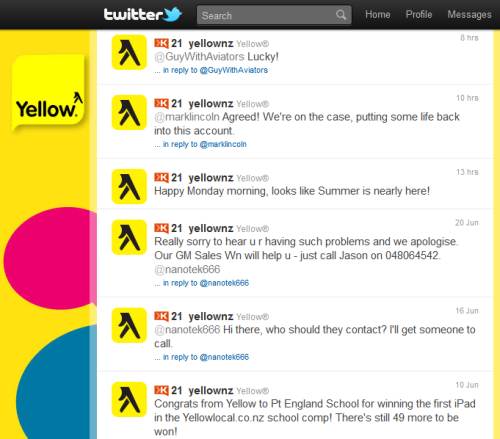 It seems that the Twitter account had been silent since 20 June and wasn't particularly active before then.Whatever the history, it's good to see the account active again. I took their invitation to check out the new website, so here goes.
Yellow NZ is listed as a customer of Local Matters Inc, so I assume that Destination Search powers their website. (The "LMI" in the code is a clue I suppose) 🙂
So what's new? Here is the official list of improvements. At first you'd think that there's only one new feature, but then you notice the scroll buttons.
Auto-assist. When you begin to type a search term, you see the categories most likely to match your intention.
Refined search results. You can refine the search results by category, service, location or distance.
Detailed business profile pages.
I checked out my old haunts – Auckland and Dunedin. I went to Otago Uni, so I searched for "university" near "dunedin".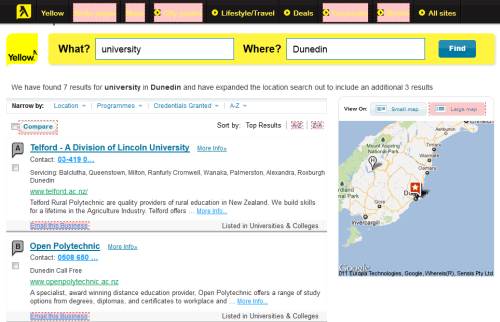 The results floored me. Seven results, but the University of Otago is not one of them:
Telford, a Division of Lincoln University
Open Polytechnic
IPC (International Pacific College)
Yoobee @ Natcoll Design School
Aoraki PolyTechnic – Oamaru
Aoraki PolyTechnic – Ashburton
IPC (International Pacific College) – Queenstown
Telford, a Division of Lincoln University – Balclutha
Arcadia University – Queenstown
So I tried "university" near "Auckland". Submitting it changes "Auckland" to "Auckland Region", so the first result was University of Waikato (the results change their order each time you repeat the search). I scrolled the page a fair bit before the University of Auckland showed up, well past Auckland University of Technology (fond memories of my brief time there when it was the Auckland Technical Institute).
OK, you need to type "Auckland City" to get nearer results.
I was searching like Joe Public, not an insider, who'd know that the Gold advertisers are listed first, then Silver, then Bronze and so on. Perhaps Otago U is too miserly to buy a listing and Auckland U can only afford a Silver one. What about free listings, like we have in Oz?
I didn't set out to look for problems, so here's something positive – the university results can be refined by Location, Programmes and Credentials Granted. You can search for universities that offer, for example, Art, Multimedia, Criminal Justice, Engineering and so on.
I searched for Criminal Justice, which narrowed the results down to one – VUW Recruitment Centre (in Auckland). A new refinement appeared: Classes, with just one choice: Architecture. I am out of touch with modern degrees, but it seems that Victoria Uni offers a course for dealing with criminal architects?
If you look for "psychologist" near "Mangere", you get one in nearby Manukau but the rest are all clustered in Howick? If you searched for them near Remuera, you're in luck. Plumbers in Mangere? The top results are the premium listings who service the area, but someone local is in neighbouring Papatoetoe. Finally, when I search for a Dairy (milk bar in Oz) in Mangere, I hit the jackpot — six that are actually in this colourful suburb.
What's my assessment? A very clean and attractive design. I particularly like the search refinements, which change with the category. Such features give a directory an edge over Google, which has far more results for a given suburb, but you could waste time or choose the wrong business because you cannot refine so well in Place Pages.
The phone numbers are partly obscured for a reason. You have to click them to see the whole number. A search results page shows many businesses and if you could read the number by default, the advertiser (and Yellow) won't know that you found them in that directory. Clicking to reveal the number helps to prove the value of the ad to the advertiser.
SEO? The site shows few signs of being optimised but there are no-follow links galore, including ones that puzzle me. Advertisers get a clean link, which is great for PageRank and the link includes click tracking. Nice.