Yoggie Gatekeeper Pico – Review
Now your computer can think outside the box, says Ash Nallawalla
Your PC has an intrinsic weakness that makes it easy for hostile files such as viruses or spyware to get past your defences. There is no need to be alarmed, as this is true for most PCs on the planet. In spite of installing the usual protection, such as a software firewall, an anti-virus program, your PC might be safe, but it is losing as much as 30 percent of its usable power. This power consists of CPU time and RAM.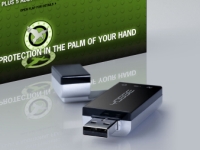 Yes, it is quite normal for a PC to lose (actually, "use" is a more accurate word) its resources temporarily for every additional task it performs, which is why you should buy as much additional RAM as you can afford. I have 2 GB RAM and could buy more, but I cannot add more CPUs to my home PC. So what do I need to get?
I need a mini-computer. Yes, you read correctly. No, not those boat anchors from the 1970s, but a Yoggie Gatekeeper Pico to be exact. It is about the size of a thick USB flash drive. It can clip to a shirt pocket and comes with a spare cap in case you tend to lose the caps of USB drives.
Israeli company Yoggie Security Systems has come up with the classic "outside the box" solution by placing a complete Linux-based computer inside a USB flash drive. This mini-computer (is it a micro-computer?) acts literally as a gatekeeper by routing all incoming and outgoing traffic through itself and blocks all the nasty stuff.
Yes, the tiny computer has 128 MB RAM and runs at 520 MHz – those specs are good enough for its limited role. The memory is split so that the operating system cannot be reached from the part that processes the data stream.
The Pico acts as a firewall, like your hardware firewall at home (you do have one, right?), but you can't take it with your laptop computer to a wireless hotspot. Many of those hotspots are usually wide open, so as not to cause problems for users who cannot configure WEP keys or type passwords. Your laptop is then visible to others who are sharing the same hotspot and one of them may have malicious intentions. Gamers remove unnecessary programs to get the most from their PC, so this little device is very relevant to their cause.
The Pico also protects against new virus threats for which a signature file has not been supplied by your anti-virus maker. If any part of a file looks suspicious, it is blocked. Yoggie has three pending patents in this area, so the smarts go beyond a basic heuristics scanner.
You can also use it for parental control on a child's PC. It will block access to inappropriate sites, phishing emails, and stop spyware in its tracks.
You get a Kaspersky anti-virus CD that installs on your computer, not on the Pico. This is to clean your PC before you use the Pico, which comes with its integrated Kaspersky anti-virus engine. You can also use the software to scan a floppy disk or USB drive.
In Use
Installing and using the Gatekeeper Pico is easy. You plug it in and then install the drivers and Yoggie software. Next, you register it at the Yoggie website and you are ready to go. Unlike its corporate big brother device the Gatekeeper Pro, which works with the Yoggie Management Server, it works in stand-alone mode.
The device gets quite warm. The Pico is a computer, so this is normal and it is stated on the website. Come to think of it, some of my USB flash drives get warm to hot as well.
I have been running the Pico on my Windows Vista desktop for a couple of months and no nasty programs or spyware have been detected, so it is doing its job. I pulled out the device and instantly lost my Internet connection, so that feature works as claimed. All in all, the Yoggie Gatekeeper Pico is a clever device that does its job silently and keeps your PC protected. You may find it available for as little as US$95 (plus postage) from online discount outlets.
Vendor: Yoggie