Edimax AR-7284WnA wireless modem router firmware upgrade without confusion
Whenever I have an issue with my Netspace ISP ADSL1 connection, I dread the conversation with the tech support person, as it takes a while to establish that I have half a clue about ISP operations and connectivity. Long story short — I bought an Edimax AR-7284WnA wireless modem router to replace a Billion BiPAC 7300G device that was getting flaky. I am at the extremity of the ADSL coverage from my exchange and the ISP tech support implied that nothing was wrong with the line. I was leaving for an overseas trip and my family was getting fed up with the constant drop-outs, so I bought the cheapest device I could get in my suburb. Billion has a good reputation but none to be found near me over the counter on a Saturday. Hence the Edimax, cheap at $77. (Later I read that OzBargain had it for $60 some weeks ago)
Edimax AR-7284WnA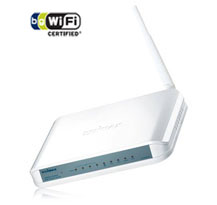 It was a major pain in the bum to set up for wireless security, mainly because of the Taiwanese English instructions. The Setup wizard always reverts to a default time zone of Beijing/HK and some default NTP IP addresses. My hurdle was the VPI/VCI values and I had no time to look up the acronyms. This is not a product for the non-techy consumer.
I managed to get past this step and had to choose WPA2-PSK as the strongest available security, but this meant that several gaming devices such as the Xbox couldn't access it, since they only have WPA-TKIP. Hence the Auto mode was eventually chosen.

Firmware Upgrade
Having returned from my trip, I decided to understand my impulse purchase better. I like to keep firmware updated because that's the first thing any tech support person might suggest.
The Edimax site isn't always accessible, which is another issue, but you will eventually find the link to the firmware download page for your modem.
No Firefox
I am currently running Firefox 3.6.12 and it doesn't work with the Download popup window at Edimax. I had to use IE8 to get the download.
Upgrade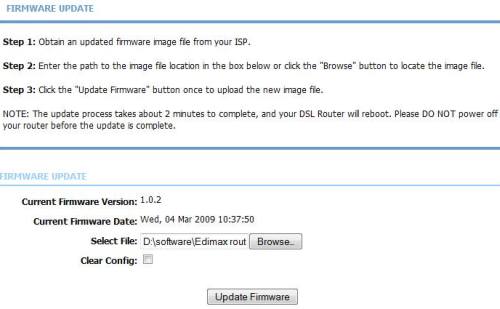 The modem instructions tell you to "obtain an updated firmware image file from your ISP". OK, even I know that my ISP does not supply customers with these files. Why couldn't Edimax provide a link to their English website? Ideally, to the specific page?
Unzip the File
My first attempt failed. Nothing happened when I clicked "Update Firmware".
The Taiwanese English instructions don't mention unzipping the file. More wasted time. Unzip it and save your sanity. Browse your way to the .img file and try again.

More Frustration
You have to login to see what changed. Just when you thought you had overcome all these hurdles, along comes another frustration! The Edimax website said that version 1.0.6 was the latest version, but my modem still showed that it had version 1.0.2, i.e. no change. I repeated this upgrade. I downloaded again and repeated. No change. 🙁
See the image below (click it to enlarge) and compare the version with the "Before" image above.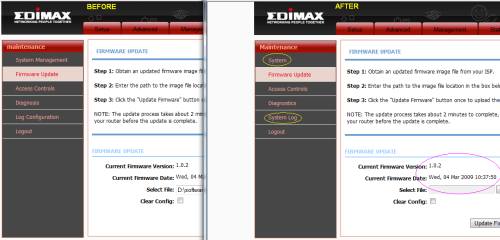 Fortunately, I still had a Firefox window open from my original unsuccessful attempt to upgrade the modem — you need IE both for the Edimax website and for the modem management.
Aha! The English in the navigation menu on the left had changed. The upgrade had succeeded, so the problem is cosmetic but seriously confusing. The developer had failed to edit the firmware version identifier.
On Taiwanese English
I don't have a problem with people for whom English is a second language, as I am in that category. But when a company exports products to English-speaking countries, I expect the company website and the product instructions to use good English and for it to be free of errors. Edimax needs to fix these problems (which might occur in their other language translations too).