Foursquare Support responds seven months later
Early last August I wrote to Foursquare support:
Recently, I spent two weeks in Orlando and its environs. At Cape Canaveral, while standing in front of a tour bus at the bus stand, I was told that I was too far from @Tour Bus @Kennedy Space Center. I took a photo of this message with a parked bus behind it. The bus tour covers a few miles and I tried to check in at a few places. I was finally accepted when the bus was about to enter the main visitor complex, i.e. a few hundred feet from the stop. It seems that whoever created the venue started typing once the bus was under way. Perhaps these moving venues should not be allowed.
The other problem is in theme parks, it is easy to walk from venue to venue quickly and check in, but after a few, you can't submit anymore. The error message implies you must be cheating. It needs to be toned down.
Here is the reply from Foursquare Support:
Hi there!

Thanks for reaching out to us with your questions and concerns! We've been overwhelmed with support tickets as our community has grown so quickly over the past several months and we apologize if we haven't gotten back to you. In the hopes that you've found an answer to your question on our support site, we're marking this support ticket as "solved."

However, if you're still having problems, we're here to help! We now have a searchable FAQ support site (http://support.foursquare.com) so you can find a quick answer to your question.

-Are you having trouble posting check-ins to Facebook or Twitter? If you've recently changed your FB/Twitter password, your connection to foursquare is probably invalid. You'll have to disconnect and reconnect accounts. See more info here http://support.foursquare.com/entries/195909-why-aren-t-my-check-ins-posting-to-facebook-twitter

-Are you interested in foursquare for your business or brand? Check out our new Business page at http://foursquare.com/business to get the ball rolling!

-Are you having issues with your BlackBerry (loading venues, logging in, checking in)? See here for answers to all your BlackBerry questions: http://support.foursquare.com/forums/189989-blackberry-faq

-Have you forgotten your password or are you having trouble logging in? Make sure you have the latest version of our official app for your phone (go to foursquare.com or your device's app store!). You can also try resetting your password by going to https://foursquare.com/login, clicking "Recover Password," and entering your login email address!

-Do you want to edit your settings, change your name or account info, upload a photo, or delete your account? Go to http://foursquare.com/settings. If you're having trouble logging in, you can reset your password at http://foursquare.com/change_password.

-Would you like to report a user violating our guidelines? Try tweeting our support Twitter account (include links to the user or venues in question!) at http://twitter.com/4sqsupport

-Do you have questions about unlocking Mayorships? See here: http://support.foursquare.com/entries/215416-how-many-times-do-i-have-to-check-in-to-earn-a-mayorship

-Is your question about earning a badge? Sorry, but we cannot respond to individual badge inquiries. For general questions about how to earn badges, see here: http://support.foursquare.com/entries/305226-why-don-t-i-have-the-badge-yet

-Are you getting the "rapid fire" message when you check in? See here for tips on how to avoid that message: http://support.foursquare.com/entries/216083-why-am-i-getting-a-rapid-fire-message-when-i-m-waiting-a-while-between-my-check-ins

-Is your phone having trouble locating you?
iPhone users, click here: http://support.foursquare.com/entries/303118-the-app-can-t-locate-you-and-or-the-places-tab-won-t-load
BlackBerry users, click here: http://support.foursquare.com/entries/412679-why-can-t-i-check-in-i-only-see-the-loading-venues-message
Android users, click here: http://support.foursquare.com/entries/437550-i-m-standing-in-the-building-i-want-to-check-into-and-the-app-can-t-find-me

-Are you seeing the "too far away" message? See here for info: http://support.foursquare.com/entries/216074-why-am-i-getting-the-message-that-i-m-too-far-away

If you still haven't found an answer to your question, you can re-open your ticket and we will do our best to get back to you within 48 hours.
Thanks for your patience,
your dedicated foursquare community team
**follow us on twitter for help+tips! @4sqsupport**
(The support site wouldn't let me reopen the ticket.)
More recently, I tweeted to @dens (Dennis Crowley), the founder of Foursquare as I was told that he responds to suggestions. I mentioned a different problem at remote locations where there is no telephone coverage. In this case it was the Cape Reinga lighthouse, the northernmost tip of New Zealand. I suggested that the iPhone app should allow us to check in at such locations, but allow us to upload several of these at a later time when Internet access is available. No reply, but CEOs can be forgiven for being busy doing CEO stuff.
Foursquare needs users as part of its value proposition to business venue owners, who represent potential revenue if they choose to play. After all, a place without telephone coverage can't be too important to Foursquare as it is unlikely to become a paying customer.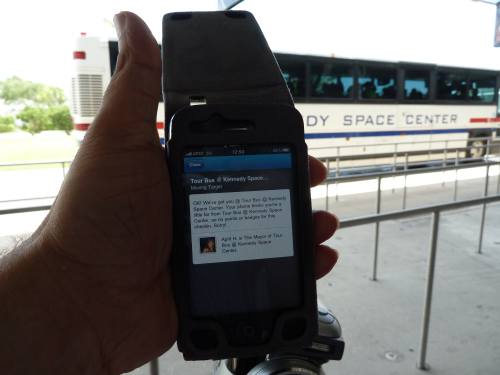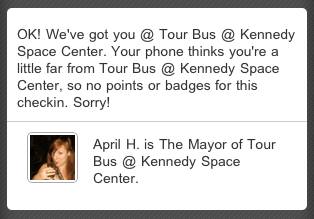 Back to the original problem of trying to check in at a very commercial, large location such as the Kennedy Space Center. The site was named Tour Bus @ Kennedy Space Center. I tried from the queue for the tour's starting point, on the bus, at a couple of stops (from memory) and then finally it let me check in a few hundred metres before the bus tour ended.
My question to Customer Support was not answered in the omnibus response that is probably sent to every user. The likely question there is, "Why am I getting the message that I'm too far away?" Click it and you will see that the user who is obviously at a location is disadvantaged when the original finder checked in at some other spot several hundred metres away. Try checking in at Walt Disney World, for instance. Where exactly?
Foursquare should try to analyse rejected checkins at well-known American sightseeing spots and widen the allowable check-in area, otherwise users may give up using the app. Do you know anyone who has given up on Foursquare?