Google's Wonder Wheel
Google Search has announced two new features that may interest some people. The first is Related Searches, which appears below the SERP and the other is a longer snippet if the search term is four words or longer. Not exciting enough for me.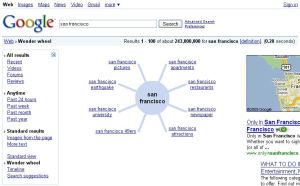 However, Google Blogoscoped reported some testing of new features that were more interesting to me at first glance.
You won't see the test unless your PC collects a special cookie. Blogoscoped has kindly provided it in the article, so you can insert it into your PC and see the new playthings for yourself. I first read about this in Webmasterworld where posts by FTFlash and Robert Charlton describe these new features (click the above image to enlarge it). Note; You must use google.com, not a national one such as google.com.au.
If you get the cookie, you will see "Show Options" next to "Web" below the Google logo. In the above image I selected Wonder Wheel, which is depicted in the image above. You will see related searches in the spokes but the wheel itself does not play any visual games. It is simply a backdrop to the related searches. Being in beta, I can't be too critical, but I don't find the feature useful. For many searches, the spokes do not appear and you can't click the hub (your search term), so you are left wondering.
For my test I chose San Francisco, being home to most Googlers. I clicked "San Francisco Attractions", which opened up a second spoked wheel linked to the original wheel. I next chose "San Jose Attractions", whereupon the original wheel becomes an outlined circle. For each selection you make, you get organic search results in the right half of the page and at the bottom you get a columnar list of the related searches seen in the Wonder Wheel. Strangely, I got "San Jose, Costa Rica Attractions" and "San Jose Costa Rica Attractions" (no comma the second time).
The Wonder Wheel will probably be a gimmick for me as I don't run my applications in full screen mode and need to see most of the screen in a smaller window. What did you think of it?
The second new choice on the left is a Timeline for the current search term. This operates in a true AdWords broad match sense and made no sense for my "San Jose Attractions" search term (minus quotes). The timeline started in 1602 with a reference to the namesake San Jose in Panama. The next one in 1610 is in Mexico. And on it goes, giving unnecessary information for a query that started in San Francisco. The sixth result is the one in Silicon Valley.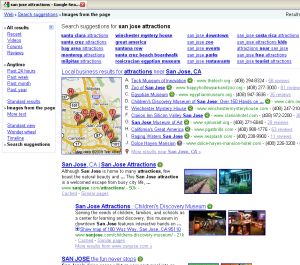 The third new feature is Search Suggestions, 16 of which appear above the Onebox map and 10 local results. These did relate to San Jose, CA and were quite relevant.
Choosing "Images from the page" show two thumbnails next to each result, which would be popular for some searches.
In all these new features I did not see any AdWords, so I don't know how messy the page will look with ads. Some people have reported slightly different test options. Let's wait and see how these features morph into their final version.