Search terminology – some customers call a spade a bloody shovel
In my work as an in-house SEO consultant I sometimes see the client using industry terminology on the website rather than the words you or I might type into a search engine.
Case in point — should it be mortgage or home loan?
I live in Australia and during casual conversations I hear more people saying home loan than mortgage. Should I go with this for a lending institution's website? As experienced search marketers, you might tell me to look up the good old Google Keywords Tool. Let's see: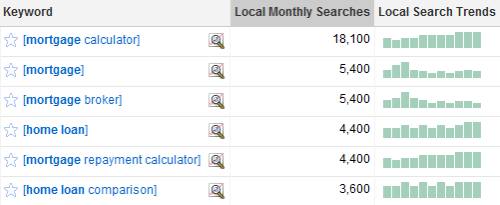 Looks like I am wrong, but the count is close. How about searches in the US?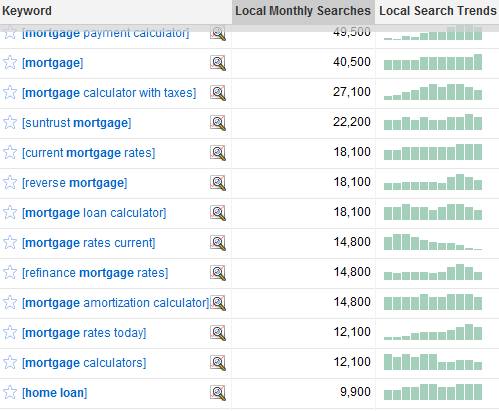 Wrong again. A similar pattern emerges for Canada, although just 4400 Canadians searched for a mortgage last month (Exact Match). In the UK the word mortgage is 10 times more popular than home loan. So you get the picture — never trust your own perceptions without checking some impartial source.
Yahoo Rich Search Assist
Yahoo! Search isn't dead — far from it. This week several new search enhancements were announced at the Web 2.0 Summit. Of those, a new and improved Rich Search Assist is being trialled, although it is not available to me as yet. It looks similar to Google Instant.
Yahoo Clues
Another new tool from Yahoo! is Yahoo Clues, which I used to check those two keyphrases.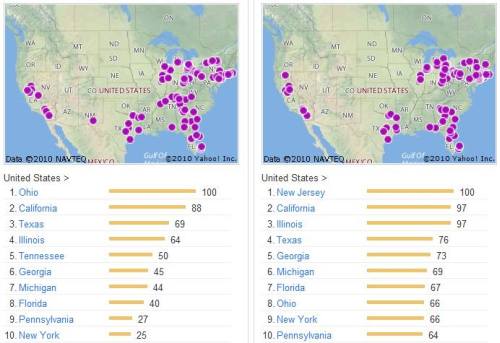 If you are targeting local search in the US, this could be an additional tool to try. It seems that home loan is more popular in Ohio and California but mortgage is more popular in New Jersey and California. Some states seem to use both terms fairly evenly, so you won't go wrong using both with equal emphasis. Yet, some states such as New Jersey use one to the near-exclusion of the other.
Search Flow
Yahoo Clues shows Search Flow, showing the previous and subsequent search terms.

Undoubtedly, the search clickstream reflects the gloomy home loan market in the US, with some searches relating to refinance. Yet, there is also an interest in mortgage calculators, so a newspaper researcher could also benefit from this tool.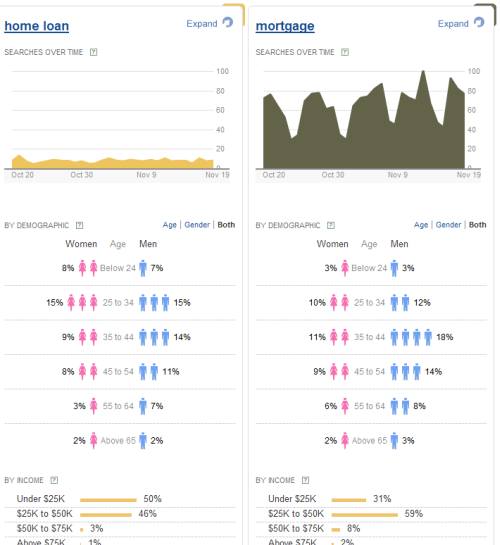 Other demographics are also available, but given that many people are not logged in, I tend not to place much reliance on this.
Like any such tool, the results depend on the data available to us (not necessarily to the search engine). If you trust the Google Keyword Tool and are targeting the US, you will say that mortgage gets about 4x the searches as home loan. If you use Yahoo Clues, you'd say that mortgage gets about 8x the searches as home loan. Both could be right, since the two search engines are likely to have different users — normal people stick to one browser and one search engine, unlike us.
Google Insights for Search
If you want to be more confused, head over to Google Insights for Search (also Beta).
According to this tool, mortgage also has a lot more searches than home loan, but when you look at the regional distribution, South Dakota and Iowa are leading for home loan, and Delaware and New Hampshire lead for mortgage. This is quite different from what the Yahoo tool would imply.
Conflusion
If you want to use these tools for paid search research, do so and your own analytics data will either confirm or refute this data. However, for organic local search research, don't bother with state level data. Just emphasise the dominant term and mention the lesser term less prominently in your content.