Travel sites fail to rank
When I am searching for a good air fare or want to make a hotel booking, I don't use Google. I go directly to sites such as Expedia, Travelocity, Hotels.com, Kayak and their Australian counterparts. That's because I have found good bargains in the past and have bookmarked them. What chance does a travel portal have these days of ranking high in Google, given that many SEOs are saying that brand is important for ranking?
Let's fire up the Google Keyword tool and get some of the most searched travel terms in the US:
adventure travel
air travel
all inclusive vacations
antigua travel
bahamas vacation
business travel
cancun vacation
car rentals
caribbean cruises
cheap plane tickets
cheap travel
cruise deals
discount travel
disney cruise
disney tickets
disney vacation
disney world vacation
disneyland vacation
hawaii vacation
honeymoon destinations
las vegas deals
las vegas hotels
las vegas shows
plane tickets
st lucia travel
student travel
travel advisor
Travel Deals
travel guide
travel insurance
travel to europe
turks and caicos travel
vacation ideas
vacation packages
weekend getaways
world travel
For the travel sites, I chose some of the usual suspects (your list may differ):
bootsnall.com
cruisemates.com
expedia.com
flyertalk.com
gohawaii.com
hotelclub.net
hotwire.com
igougo.com
kayak.com
lonelyplanet.com
planetware.com
priceline.com
realtravel.com
travel.aol.com
travel.yahoo.com
travelocity.com
tripadvisor.com
triporama.com
visitcalifornia.com
visitflorida.com
As for search engines, I chose:
AOL
Bing
Blekko (it's new)
Google (USA)
Yahoo (USA)
Losers and Winners
The "rankings" below cannot be taken too literally, as some are very localised sites, e.g. GoHawaii.com, or cover a specific kind of travel, e.g. Cruise.Expedia.com or hotels only, e.g. RealTravel.com. I wasn't looking for long-tail searches, where each site has probably carved a different niche. Conversions are another matter altogether — an obscure destination or hotel may generate more conversions than a popular one.
Not all travel sites you can think of are in the list, because this isn't a true ranking comparison of like-for-like. Each travel site has some distinguishing offering that prevents a direct comparison. So look for the sites that are not performing in their expected niche.
The number of rankings is important; for instance, although RealTravel.com features hotel recommendations and nothing else, it should have shown up for at least one of the sample searches, particularly "las vegas hotels".
What about the biggies such as the travel portals of Yahoo and AOL? Travel.Yahoo.com got four rankings (in AOL, Bing, and Google, but not in Yahoo Search). Travel.AOL.com just scraped in with one #8 ranking (in Bing, of all places). Could they get their own search engines to, er, check out, their own portals a bit more? (nudge nudge, wink wink). 😀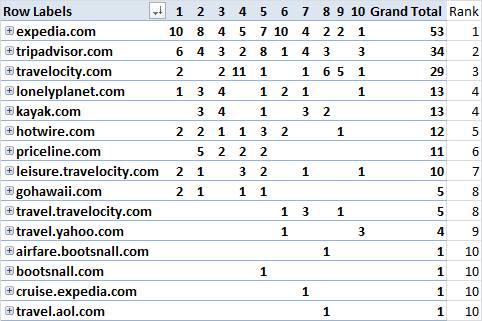 If you compare the above list with the list of sites checked, you will find five that didn't have a single top-10 ranking. Look at the spread of appearances across the search engines (AOL uses Google data but the ranks vary) and their page-1 ranks:

What's Wrong (SEO-wise)
The large travel booking portals cover destinations across the planet and have good SEO, so they have the greatest top-10 visibility. When you eyeball the individual SERPs (search engine result pages), you will find that each keyword is a Hyper Niche.
Take adventure travel, for instance. Not one of the featured sites ranked for it. Perhaps it is a minority interest, but it's not too difficult to write a few articles about the subject. Expedia uses the phrase as anchor text (a link) that leads to an Adventure Vacations page. However, the phrase adventure travel does not appear once on this page.

Google says that last month 18,100 Americans searched for adventure vacations and 90,500 searched for adventure travel. The global counts were 22,200 and 165,000 respectively, showing that vacations is a word used mainly in the US.
Perhaps the busy people at Expedia have no time to worry about this and as they came at the top of my visibility list, they are certainly doing a lot of things right. So, this is a message for the sites that didn't rank high.
In the adventure travel hyper niche, the top 5 sites in Google are not in my list:
adventuretravel.com
gapadventures.com
iexplore.com
nationalgeographic.com
adventurecenter.com
Out of curiosity, I checked who's at the top of adventure vacations:
gordonsguide.com
trustedadventures.com
adventurevacation.com
austinlehman.com
expedia.com
Expedia did well for its chosen keyword. AdventureVacation.com is a tiny site compared to the big brands, so it has done well to rank so high.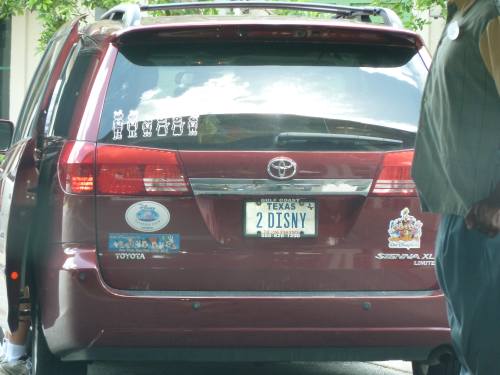 How about the Disney searches? My family and I have been to Disneyland and Walt Disney World at least six times and the land content of the recent trips was all booked directly with the Disney property or a travel booking portal. A search for disney world vacation has the first four results sewn by by Disney sites. Expedia comes in at #6 but the remaining sites include WDW specialty sites and others built to target this niche. No Kayak, AOL or Yahoo result in the top 100 results.
Robots.txt
But even the big sites can make unintended mistakes. For example, Expedia's robots.txt has wrapped around into one long string, so I was curious whether the spider could still read it.

An excluded path is /daily/vacations/merch/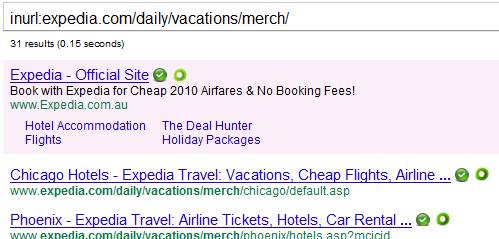 As I feared, the excluded directory has been indexed. This kind of unintended wrap-around happens sometimes when you are FTPing a text file to a Windows PC and try to edit with notepad.exe. A better editor such as TextPad will help to avoid this.
An example of good practice is AOL Travel's robots.txt. One that caught my eye was:
Disallow: /LonelyPlanet/*
I didn't check to see if any content lives there, but it reminded me of a problem faced by an Australian travel site two years ago. At the recommendation of their previous SEO "to get more content", they had licensed hundreds of pages from Lonely Planet, since businesses don't have travel writers on tap. Sadly for them, this large dose of duplicate content did not help their visibility in Google.
TripAdvisor has one of the longest robots.txt files I have seen in a while, but no issues there.
Duplicate Content
Many of the sites in my list have a duplicate content problem. AOL Travel is also one of them. I drilled down to a town I had visited a long time ago. Johor Bahru has alternate spellings – Johore Baru/Baharu and AOL has picked up on this. I chose a random venue – the Caesar Karaoke and Musical Lounge. I picked the first sentence from its description:
This karaoke bar attracts clients from the seafood restaurant a deck below.
A phrase search in Google shows that it has been copied by many other licensed users:
realtravel.com (8 times)
wcities.com (4 times)
travel.aol.com (4 times)
nileguide.com
marriott.com (4 times)
travel.yahoo.com
travelchannel.com
If you knew the name of this venue and searched for "Caesar Karaoke and Musical Lounge" (without quotes), AOL is the first result, which is good for them. Google must have indexed it first. A similar check for a nearby town of Ayer Papan showed that Yahoo Travel got top ranking for the same text but AOL was absent.
It would seem that large sites have no option but to take their chances with syndicated content, in which case they need to attract unique user-generated content that lives on their pages (not on some partner's site).
Sitemap.xml
Some of the lower ranking sites have no sitemap.xml files (or have chosen other names for it and not pointed via robots.txt). It is a royal pain in the butt to generate this file for large sites, but like the dentist's drill, the initial pain will be paid off when the site gets crawled better. The parent site www.aol.com has nothing in its robots.txt but the file exists. No sitemap.xml that I can find. Kayak has a robots.txt but no sitemap.xml (unless it has been named differently).
Site Architecture
The larger the travel site, the larger is the potential for architectural mess. It is common to see 150 to 200 links on most pages. Never mind the dilution of link juice or not getting crawled fully because the spiders are lost, but what about us humans? When I am deep down a path, reading my intended page, why show me 150 other "nearby" links?
Subdomains
AOL Travel does this, but it has spread content over so many subdomains that each is a "different" site in Google's eyes and competes with each other. Such subdomain decisions are made in large companies because it makes life easy for some IT person or an ignorant product manager who's only looking at keeping their patch uncluttered, or the decision is driven by the web server being powered by a partner. Google doesn't care about this, so the large company's only option is to spend on PPC ads. Now Google loves that.
Sample:
about-search.aol.com
about.aol.com
advertising.aol.com
autos.aol.com
daol.aol.com
feedback.aol.com
free.aol.com
help.aol.com
lifestream.aol.com
news.travel.aol.com
realestate.aol.com
shopping.aol.com
switcher.dmn.aol.com
toolbar.aol.com
travel.aol.com (the site in question)
vacationrentals.travel.aol.com
webmail.aol.com
www.aol.com
yellowpages.aol.com
Data Quality
Using a list of "popular" cities is a common way to direct spiders to pages that need Google-love, but how are they chosen? AOL has picked some odd towns and suburbs below: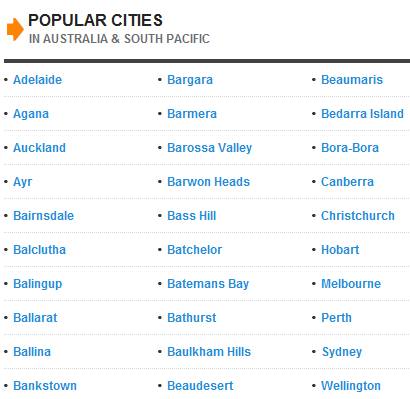 Picking on one example, the Melbourne suburb of Beaumaris has some expensive homes and a great location, but is otherwise unremarkable. Its detail page has no details about it and no hotels either. Why is it so popular? The page even purports to offer Beaumaris Deals, Beaumaris Flights (but there's not even a helipad within cooey), Beaumaris Car Rentals, and wait for it — Beaumaris Vacations and Vacation Rentals!
It claims that a nearby town of Scamander is 3.4 miles away. Never heard of it. It turns out to be somewhere across the Bass Strait in Tasmania. Wait, let's check out the Blue Seas Holiday Villas that are in Scamander. There is a Map link (unfortunate that the visitor is now taken to the Mapquest site, possibly lost to their advertising).
This is where you'll find the Blue Seas Villa in Scamander. Crikey! I didn't realise that Tasmania had such large cities. I notice "Glendale" and my mind shifts to Arizona, USA.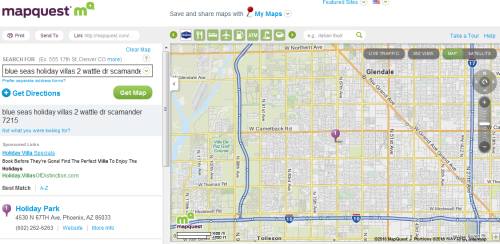 This is the kind of mess that a database-driven site can get into when the data is incomplete or when the template variables, e.g. "Attractions", can't be populated for the tiny places where tourists seldom go. Yahoo Travel does a better job of finding Scamander, TAS (although I could think of a few more interesting places for Americans to visit in Tasmania).
User Generated Content
Tripadvisor does really well thanks to its large amount of user generated content by way of ratings and reviews. I usually write reviews on this site following every major trip.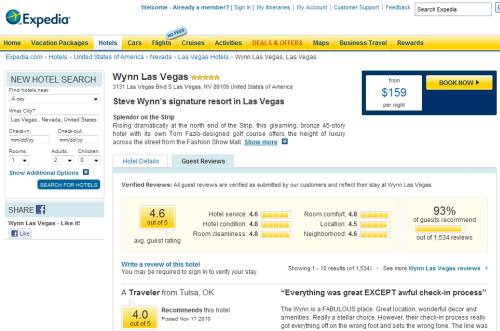 Expedia also has lots of original reviews, which has helped its visibility in the search engines and users like it too. Having stayed at the Wynn last week I read a few reviews too and noticed a wide range of perceptions.
Microformats
I did not see much use of microformats, which is a shame because travel lends itself so perfectly to ratings, reviews and addresses. They stand out in the Google results, so they may attract more clicks.
Facebook
A few sites are using the Open Graph tags and most have the Like/Recommend buttons. It seems that they are looking forward to Facebook as an alternative traffic source to Google, which is good thinking.
What about their presence on Facebook? Google and Bing both take note of social media signals for ranking, so it is important to keep an active presence on those platforms.
[table "0" not found /]
Twitter
[table "0" not found /]
Conclusion
Social media conversations are now important for search engine ranking, but not enough seems to be happening at many travel companies. Smaller affiliate marketing travel sites seem to have worked harder to rank high.
There isn't a total lack of SEO knowledge at those companies. Conference speakers from several large companies have noted that it is difficult to effect changes. Usually, the SEO position has no clout and their good advice can be perceived to be "interference" by others whose KPIs don't include increased traffic numbers or revenue.
There must be millions of different travel search terms, so the next sample study will yield different results. I simply chose the ones that are the most popular. Large travel sites turn around like oil tankers — very slowly, but they can get some quick wins at little or no development costs.
I imagine that grim-faced department heads are too busy worrying about declining revenues to do something about it. They are the ones who can make a difference.