SEO ranking of US IYPs across 274 cities
As the in-house SEO for the Aussie Yellow Pages® Online I follow the local search scene, such as it is, but I rely on the writings of North Americans for detailed analyses of US IYPs.
For example, Greg Sterling. Back in 2007 he wrote Using IYPs as an SEO Strategy, where he wrote about the Internet Yellow Pages (IYPs) being a proxy for search engine visibility through good SEO. In the comments below that post, Chris Silver Smith writes about his time as SEO for Superpages.com and some of the considerations for Google/Yahoo/Bing SEO for IYPs. Next, David Mihm who specialises in Local SEO.
Another local search specialist is Andrew Shotland, who has just published IYP SEO Rankings Report 2009. This article was picked up in my alert for Kelsey Group Blog. Andrew's rankings intrigued me. I had not heard of some of the IYPs he mentioned – not surprising when they don't appear high in searches.
Superpages
Citysearch
Yelp
Yahoo Local
InsiderPages
YellowPages.com
BizJournals
AreaConnect
MagicYellow
Switchboard
MerchantCircle
GetFave
Yellowbot
Yellowpages.Lycos.com
Kudzu
Discoverourtown
Loqal.com
Local.Ingenio.com
YellowUSA.com
IAF.net
I have been checking mostly Australian/New Zealand/European IYPs for signs of SEO for two years, but Andrew's article got me wondering whether you can assess the SEO of an IYP by checking 20 keyphrases across 20 cities. I am writing a review of Axandra IBP 11.5, so I thought this was a good exercise for my project. I didn't want to replicate the whole exercise both as a professional courtesy and through a lack of time (as well as personal relevance).
Usage is king
For any YP/IYP sale of an ad, usage is a crucial part of the offering. After all, advertisers pay for a listing because they expect consumers to find the listing, contact them, and finally buy. If consumers don't use the directories, advertisers won't renew.
Usability experts at an IYP work hard to make the site usable; this only matters if there are users, which is where marketing comes in. Traditional marketing and search marketing are equally important. Brand capital brings in the direct and bookmarked visits; SEO brings in search engine visits; PPC fills in the cracks, (unless you have the budget to cover every heading).
SEO at IYPs
SEO has been neglected at some IYPs, while some actually closed their front doors to the search engines in the early days.  A handful have embraced SEO with gusto (and succeeded), as can be seen in Andrew's analysis.
A reality that some IYPs face is not appreciated by some commentators; namely, there isn't a shortage of SEO know-how but there are limited resources to apply that knowledge. I haven't looked around, but I suspect that a typical, self-respecting IYP is not a LAMP machine sitting under someone's desk.
Regardless of the platform, IYP developers are usually busy with ongoing feature enhancements, bug fixes, etc and use some respected testing and deployment methodology. This sometimes delays implementing the "obvious" SEO tactic that others are eager to point out. The SEO can't walk in and ask for an edit to robots.txt, for example, and get it done on the spot.
Scope of the tests
I have been running fortnightly ranking checks of our own top 100 headings across two metros, giving me 248 keyphrases. Why 100 headings (categories)? It's a round number and as we have over 2700 of them, I monitor only the most valuable ones. It's good to compare ranking trends with organic traffic measured internally. But this post is not about the Aussie IYPs, so back to the US.
"Valuable categories" – what does that mean to an IYP? Lots of different things, such as:
Which categories produce the highest yields ($ per sale)?
Which categories bring the highest/lowest revenues?
Which categories are churning?
Which categories get the most/least traffic?
Inside an IYP, different people might have different lists of valuable categories. The retention manager monitors churn categories; the PPC manager needs to know which categories need more traffic, because they aren't getting organic traffic; the sales managers want to know where traffic is going to, so that they can sell to those niches; and so on.
Take, for example, restaurants or pizza. In some geos, you can't sell them an IYP package easily because they are always full and are price sensitive. They get a free listing, anyway, but the ones who take out a display ad reap the benefit of increased visibility. The food categories usually get among the highest number of searches at the large IYPs, SEO or no SEO, so it's not a priority area for me.
For my IBP review I decided to run four sample tests across 28 US IYPs:
50states.com
AreaConnect.com
BizJournals.com
Citysearch.com
dexknows.com
Discoverourtown.com
GetFave.com
IAF.net
ibegin.com
InsiderPages.com
judysbook.com
Kudzu.com
local.com
Local.Ingenio.com
local.yahoo.com
Loqal.com
MagicYellow.com
MerchantCircle.com
openlist.com
Superpages.com
Switchboard.com
yellow.com
yellowbook.com
Yellowbot.com
YellowPages.com
Yellowpages.Lycos.com
YellowUSA.com
Yelp.com
I say tomahto, you say tomato
I chose four keyphrases:
Dentist
Divorce lawyer
Divorce attorney
Doctor
One has to be careful when choosing keyphrases for a test. The larger the IYP, chances are that they have a formal approach to taxonomy. Sometimes, this language is not conducive to SEO because ordinary folks don't use formal language in a Google search.
Using the Google AdWords Keyword Tool to count instances of searches can help. For example, last month in the US, more people used the word "attorney" than "lawyer". I first opted for "lawyer" for the heck of it (then I tested both).
Breadth of the tests
I wouldn't be happy testing just the top 20 metros because local search is spread over all suburbs (cities) and that some categories are intrinsically hyper-local, e.g. doctors. I would not do a Google search for Melbourne doctors if I had just moved to this city and wanted one close to my home.
Methodology
The US Census Bureau has a handy list of 274 cities/regions with a population greater than 100,000 people. I chose this list to conduct my tests. One of the flaws in this approach is that some IYPs that are tied to print directories do not cover every part of the US, so including them in a national analysis might be unfair. Therefore, I am not presenting a set of national rankings here. I used the same weighting factor as did Andrew, namely, a #1 ranking is worth 10 points, #2 is worth 9 points and so on. (One could argue about this but it's fine for this purpose.) I am running the tests on google.com (not .au) from Australia, so there will be some variations compared to tests run in each of the 274 localities.
IYP Rankings Test 1: Dentist
This is a list of keyphrases such as Abilene TX dentist, Boston MA dentist etc for the top 274 localities.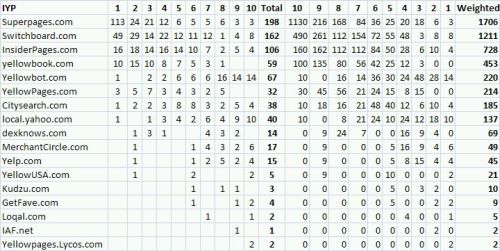 The table above shows ranking instances in the left half; for example, Superpages has 113 #1 placements in the Google SERPs; 24 #2 placements, and so on. In the right half you see the weighted scores – 113 x 10 = 1130, 24 x 9 = 216 and so forth.
IYP Rankings Test 2: Divorce Lawyer
This is a list of keyphrases such as Jackson MS divorce lawyer, Fayetteville NC divorce lawyer, etc for the top 274 localities.

The rankings for this keyphrase set are quite different. Superpages reigns supreme, but IAF.net ranks #2, not second last as per the first test.
IYP Rankings Test 3: Divorce Attorney
This is a list of keyphrases such as Peoria AZ divorce attorney, Fayetteville NC divorce attorney, etc for the top 274 localities. (Yes, Virginia, there is a Peoria in Arizona – I didn't know this before.)

IAF.net is again in second place after Superpages.com. Magicyellow.com is nowhere for "attorney" but seems to be doing well for "lawyer". The rest are more or less in similar positions as in the previous test.
IYP Rankings Test 4: Denver Suburbs Doctor

I noted a comment made by Chris Silver Smith on the post referenced at the start of this post:
While Superpages.com is nationwide, they're not the dominant printed directory provider in every market, and the websites of the dominant provider often have higher traffic levels than other sites for that area. For instance, I've seen a number of stats showing that Dex directories (owned by R.H. Donnelley) dominate online yellow pages market share for cities in Colorado where their print directories are dominant.
So I found a list of 92 neighbourhoods in Denver, CO and chose a very local service provider that I'd expect to find in each residential area for sure – doctors. This would give me a feel for the depth of coverage within a major metro.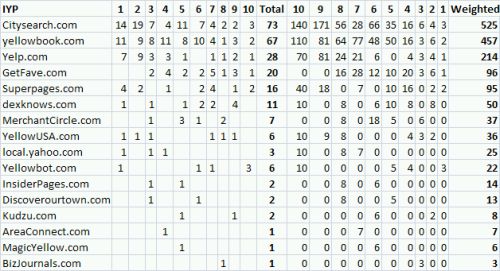 Boy oh boy. Superpages isn't dominant here but CitySearch and YellowBook are.
Not Tested
I did not test rankings in Yahoo and Bing. I lie. I started to check the keyphrases across all three engines but IBP kept failing, but it was fine with Google on its own. Something to pass on to the vendor.
Although I have the data, I didn't have the inclination to test the reverse, namely, for a given locality, which IYPs rank high, or rank at all? For example, not one of the IYPs rank in the top 10 for Birmingham AL divorce attorney, Burbank CA divorce attorney and 49 other localities. Yellowpages.latimes.com ranked high for the Burbank entry, but it wasn't in my list of IYPs. In this niche, law firms and verticals have the top spots.
It's well and good to see which IYPs rank high in Google, but do they have market share in the same proportions? I don't have access to Hitwise USA stats, so compete.com will have to do. Try this comparison. (You need to login to compare five sites, but you can see three without logging in.)

Click the image above to see a larger version.

The fifth site here is IAF.net. According to this tool, Citysearch.com (green line) is declining in visits and Yelp.com (orange line) has just caught up. Yahoo Local (red line) is climbing, while Superpages is slightly declining – it's the blue line.
Why some rank high
Across my limited testing (and Andrew's analysis), superpages.com does rank high consistently in the organic search results. Whatever magic Chris cooked up during his tenure there, it's still working. Without probing too deep or giving away their secrets, here is what I see:
Lots of pages other than pure BPPs, for example, they have Amazon and eBay content. More pages for internal links and for bringing in long-tail searches.
City guides – each locality page brings in more visits.
Coupons and deals – good for repeat traffic.
Info-rich BPPs.
Good use of nofollows.
Why some rankings suck don't do well

I'm not naming names, but some of the IYPs not ranking well (or at all) show some of the following shortcomings:
The SEO shortcomings are known, and the solutions are scheduled to be implemented soon.
Unusual use of nofollows – blocking a spider from your content isn't a good idea.
Explicit blocking of spiders from your content via robots.txt – see above.
No browsable listings (or I missed it) – just a search box.
No sitemap.xml – large sites with a lot of movement need it so that Google can pick up changes quickly.
Addresses and/or phone numbers that could appear in a Google SERP – means fewer people clicking through to you if they only needed the phone number.
Failing to take advantage of HTML elements such as an H1 – the H1 element is less important than having a heading of some kind.
Conclusion
My conclusion is that there isn't a simple way to rank the US IYPs unless one could check every keyphrase for every heading across every locality.  Google doesn't like the use of automated ranking checkers and the sheer number of possible keyphrases makes this an unrealistic project.
For example, IAF.net is last in Andrew's list but in my limited testing it is in second spot within a niche. Perhaps IAF concentrates on selling to the legal category. Too many unknowns for my liking.
From the IYP's viewpoint, there's not much point ranking well in headings where it's difficult to sell a paid listing. They know their valuable headings and they're unlikely to tell others, but they won't be identical.
What is certain is that consumers will use Google and other engines (that's going to be just Bing soon), so it is imperative for IYP business profile pages to appear in those search results. Getting the Google user to click through to the IYP is the goal, for this reinforces the value message. Will they recall whether they found the advertiser "in Google" or "in the Yellow Pages"? There's a little challenge.