Webmasterworld conference day 1
This is my fourth Webmasterworld conference and the second one (for me) in Las Vegas. I went to Orlando 2004 and New Orleans 2005. The 2007 event feels as though it was almost yesterday, so here I am once again. Note: I will update this post with more details and images when I get home. (If someone has a better photograph of me, please send it to me)
Photographs at Flickr.
Agenda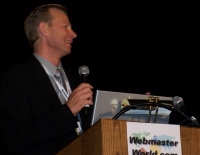 Brett Tabke opened proceedings and made the observation that only one third of the sessions could be described as pure SEO. The rest covered affiliate marketing, PPC, social media, and so on.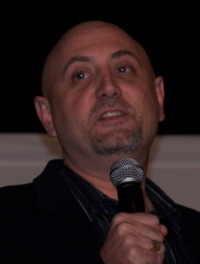 Shawn Rorick from Cirque du Soleil delivered the keynote address, which covered the changing nature of the Internet, particularly how the Internet was better exploited by Barack Obama than John McCain. He introduced a new phrase, "Halo Media", which means that users decide when/how/where they will consume media.
Top-Shelf Organic SEO
Bruce Clay, Bill Hunt, Ash Nallawalla, Jill Whalen
moderator: Mark Jackson
Bill Hunt from Global Strategies International spoke about Keyword Relevance via Prominence. Keywords should be placed in prominent parts of each page, such as the Title, Heading and so on.
After making pages relevant, you need quality backlinks from equally relevant sites and the anchor text needs to be keyword-rich.

Ash Nallawalla from Sensis focussed on Content, using the experience of the Yellow Pages® (Australia) site as an example. As with all advertising-based sites, Sensis needs people to look at advertiser content, namely their Yellow Pages listings. A business profile page has relatively little content compared to a regular website, so getting it to rank is not easy. Adding text to each advertiser's page can't be accomplished quickly.
Ash outlined several content-based strategies that deliver value to the reader and they can choose to proceed to the listings or not. One trial that has worked well is a home improvement magazine that gets over 700 visits a day, just six weeks since its launch.
Here is a link to a longer account of this session at BruceClay.com.
Search Engine Roundtable coverage of this session.
PPC Engine Vendor Panel
Patrizio Spagnoletto, Frederick Vallaeys, Dustin Kwan, Doug Stotland
moderator: Brad Geddes
Understanding The Complex Social Marketing Playing Field
Cameron Olthuis, Neil Patel, Michael Gray, Rand Fishkin
moderator: Joe Laratro
Effective Affiliate Strategies
Jim Banks, David Rivero, Elisabeth Archambault, Dixon Jones
moderator: Aaron Shear
Game On : Rocking Your Video Startup
Robin Liss, Brett Tabke, Michael McDonald
moderator: Stephen Baker
Interactive Site Reviews: Focus on Organic
Seth Wilde, Carolyn Shelby, Vanessa Fox, Jiyan Wei
moderator: Jim Banks
Being an Effective SEO Within Your Organization
Jessica L Bowman, Scott Polk, Aaron Shear, Tony Adam, Alex Schultz
moderator: Lou Ragg
Tony Adam from Yahoo spoke about the practical aspects of being an in-house SEO. He gave practical tips such as:
Knowing who are the stakeholders in your company.
Getting to know your colleagues, their personality types and who can help your agenda.
Knowing what projects are under way and whether you can add SEO value to them.
Ideally, the SEO should be plugged into the company's strategy map and have several opportunities to contribute. SEO training should be arranged for the entire organisation – obviously tailored to the audience. SEO knowledge can also be imparted through the internal communication channels.
Most important, show your passion for SEO and get colleagues enthused!
Navigating The Complex World of PPC Engines
Christine Churchill, Microsoft Representative, Andrew Beckman
moderator: Melanie Mitchell
The main takeaway for me from Alexander Barbara was that social media sites such as Digg, StumbleUpon, Hugg, Twitter, etc is that their traffic quality varies and they do not convert as well as targeted traffic would. If your business appeals to this audience then it might suit you.
Earning Big Bucks With Social Media Traffic
Vanessa Fox, Michael Gray, Alexander Barbara
moderator: Rand Fishkin
Balancing Income Channels Between Affiliates and Ads
Jim Banks, Jon Kelly, Adam Jewell
moderator: Joe Laratro
Video Search Engine Optimisation
Mark Robertson, Edward Kim, Gregory Markel, Grant Crowell
moderator: Robin Liss
Interactive Site Reviews: Open Call
Kate Morris, Wil Reynolds, Craig Paddock, Guillaume Bouchard
moderator: Gord Hotchkiss
Universal and Personal Search – This Changes Everything
Brian Combs, Greg Boser, Amanda Watlington
moderator: Jake Baillie
Keyword Research, Selection and Optimisation
Ken Jurina, Larry Mersman, Wil Reynolds, Stoney deGeyter
moderator: Christine Churchill
Social Media : The Big Sexy Buzz
Guillaume Bouchard, Kent Schoen, Brian Carter, Warren Whitlock
moderator: Roger B. Dooley
Affiliate Based PPC Issues and Options
Adam Jewell, David Naffziger
moderator: Jon Kelly
Video Engines – New Kids Rocking The Web
Cuong Do, Chase Norlin, Henry Hall, Stephen Baker
moderator: Brett Tabke
Interactive Site Reviews: Focus on Video
Grant Crowell, Gregory Markel, Michael McDonald, Mark Robertson
moderator: Chris Winfield
Organic Keyword Research and Selection
Eric Papczun, Seth Wilde, Craig Paddock, Carolyn Shelby
moderator: Mark Jackson
Landing Page Optimisation
Brad Geddes, Lily Chiu, Kate Morris
moderator: Christine Churchill
Is Social Media & Search a Love Story or a War Story?
David Wallace, Chris Winfield, Liana Evans, Bill Hartzer
moderator: Lawrence Coburn
Your Relationship With The Affiliate Manager
Bob Rains, Shawn Collins, Brook Schaaf, Beth Kirsch
moderator: Lisa Riolo
Video and Multimedia Advertising – Show Me The Money!
Mort Greenberg, Angela Lauria, Bob Bahramipour
moderator: Joseph Morin
Interactive Site Reviews: Focus on Affiliates
Adam Jewell, David Rivero, Elisabeth Archambault
moderator: Jill Whalen
Discover Techniques Used by Enterprise-Level SEOs/SEMs
Marshall D. Simmonds, Bill Hunt, Ash Nallawalla, Scott Polk
moderator: Joe Laratro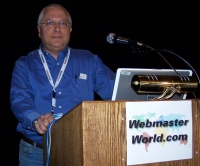 Ash Nallawalla from Sensis gave an insight into the corporate SEO's challenges. Essentially, things happen at a slower pace as corporations become larger.
The website can have millions of pages, so keyword selection is limited to a handful of key terms
There is greater emphasis on site architecture and strategy
Changes can be slow to implement and costly
Many stakeholders have to be consulted
As a bonus, it is easier to get unsolicited links
Web platforms are chosen for many reasons, but seldom SEO.
Web design and site architecture practices might not have taken SEO into account.
The web pages might not contain a lot of text.
Others might not link if you require them to link only in certain ways.
Duplicate content can occur when multinational companies copy the same pages from the parent site, or when content is licensed from a third-party specialist provider.
Ash then presented a case study of the Australian Yellow Pages website where IT resources were limited owing to other competing projects and how good SEO value was extracted. Sometimes the corporate SEO must make do.
Coverage of this session by Search Engine Roundtable.
Large Scale Bid Management
Chris Zaharias, Jon Kelly, Kevin Lee
moderator: Ken Jurina
Tag, You're It! How To Leverage Your Visitors
Dan Zarrella, Brian Breslin, Geoff Livingston
moderator: Todd Malicoat
Working With Affiliate Networks
Karen White, Jamie Birch, Durk Price
moderator: Chuck Hamrick
Real World VodCasting and Vlogging
Vanessa Zamora, Brett Tabke
moderator: Brett Tabke
Interactive Site Reviews: Focus on SEO Design and Usability
Ted Ulle, Jill Sampey, Amanda Watlington, Eric Papczun
moderator: Jessica L Bowman