When big brands break – BMW Australia
An ad for the BMW X1 caught my eye and I clicked through to BMW Australia — actually its ad landing page.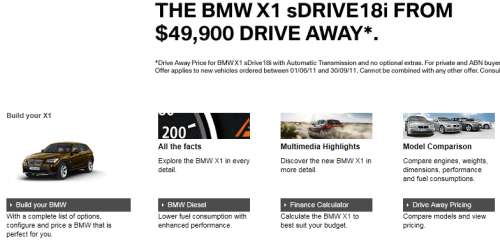 The price might sound high for the US or UK, but is what we have learnt to accept as "low" in Australia for this brand. So how would you explore this site?
Do you click the links on the left — the car or Build your BMW? You might, but I had noted the important words "no optional extras" for this price. So I thought I could find a page listing this model and all its features.
All the facts
This is a likely page. I don't care what's under the bonnet or boot (hood and trunk respectively, for the USAns). Just take me to the interior features, since I interact with them the most. What instruments do you get at this price, how many seats, how many cup holders, etc. More seriously, I am interested in useful features such as the GPS navigation, reversing sensors, climate control, cruise control etc. This information is usually easy to find on most car websites.
I looked at Design > Interior. There's a picture of an overseas, left-hand drive interior. No big deal — we know that Germany has LHD cars. It is probably the most fully optioned interior. But where are the details?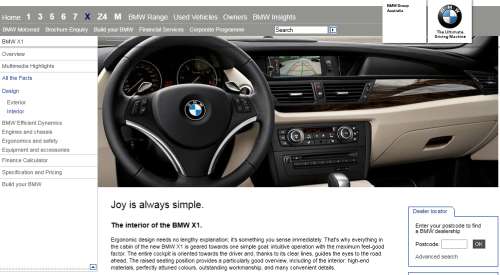 My patience is being tested now. I backtrack to Build your BMW. It's a nostalgic journey for me, for I worked at Selectica 11 years ago and I had to build a BMW car configurator to pass an internal certification exam (BMW Germany used Selectica's configurator software back then).
The first couple of times when I tried to click the models, nothing happened. Was it my browser? I left the site but went back, as I am hoping to buy a new car before the end of the month, being the end of the financial year. The price is in the ball park, but I know that it's a trick to get my attention, and I'd be up for another $10k before I had a half-decent configuration.
I went back to the landing page and tried Equipment and accessories > Accessories Finder. I didn't want to "find" an accessory — I just want to know what you get and what you don't. I don't know where that path takes you, because the destination at accessoriesi.bmw.com is broken. (It should probably be accessories.bmw.com, which is a valid subdomain) That's what you get when the Australian website relies on the German website to be working. Did anyone at BMW test that link? (more on that later)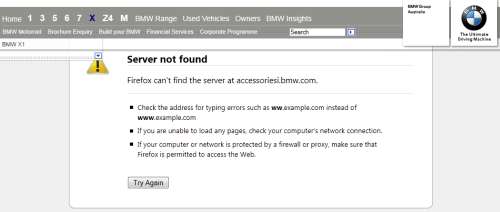 Brochure Enquiry?
I don't want to send an enquiry for a brochure. Are they kidding? Yes, it's someone's idea for a lead generator, but I'm not about to fill a multi-page form (being guilty of building the same when I was designing lead forms for Macromedia!)
Back to the configurator
I thought I'd surely get information about the X1 interior in the configurator, so I went back. Eventually I realised that I needed to wait nearly a minute before something appeared. The framed configurator seems to be at ebsm.bmwgroup.com somewhere in Europe. I'd love to see the bounce rate for this website, because it truly tests one's patience. Now what?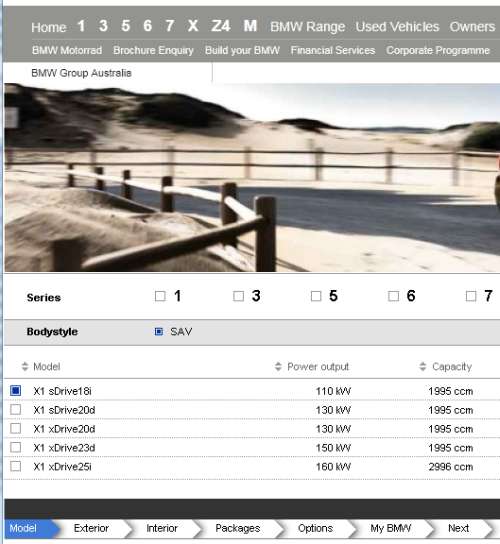 I clicked the option for the X1 sDrive18i and watched some TV before noticing that the checkbox was now filled in blue. What next? I waited a while, then realised that a series of tabs had appeared below and I should click one of them. I clicked the Interior tab. Nope, it's just the fabrics selector.
Finally I got to the Options. Yep, it is full of strange choices in German English such as Bluetooth phone preparation, Navigation System Business or Navigation-system Professional — nothing for home users, it seems. One has a CD player and the other takes a DVD.
Extended connectivity of the music player in the mobile phone — yes, that's the wording of an option, as is 6-speed automatic transmission incl. Steptronic. You can select the latter, but you don't know what you're giving up — manual transmission, 4-speed automatic?
The configuration details comprise a long list of unexplained features. What exactly are the 2 washer jets heated, on engine-compartment lid? I am guessing that these are the windscreen washer jets on the bonnet. When I read "engine compartment" I think of trains, not cars. 3rd brake light rear? It has three brakes? Don't the first two brakes have a rear light?
I can live with some of the German English, as it's probably part of the brand experience, but the usability is testing my patience. I don't know what these options cost; presumably on the next tab I can Request a Price. Yes, lead generation again.
Technical Issues
The website has numerous (hundreds?) broken links — it looks like many models link to that Accessoriesi subdomain and they all fail. A few links lead to old models whose pages no longer exist. Some might be current, e.g.
M Models > the M3 Convertible's All the Facts link is broken.
The X3 and X5 pages have broken links to a couple of JavaScripts for the configurator.
On the Insights Promotions page, you won't normally see the Arrange a Test Drive and some other choices unless you disable JavaScript. It doesn't matter, since this link is broken.
The BMW Motorrad site tells me to upgrade my Flash player to the lastest (sic) version, when in fact I had JavaScript turned off. Turn JS back on and the Flash content is visible.
HTML validation fails with over 700 errors.
A WCAG 2.0 AA accessibility check reveals 77 known problems, 1 likely problem and 943 potential problems.
I avoided the temptation to comment on SEO shortcomings, as they are a-plenty.
As for the Mini dealership pages, I won't go there.
This might be gibberish to traditional marketers, but it can be better described as potential lost sales. Why do these things happen? Because many marketers don't know how to ask for a website or a page to be built and many website builders don't know what they don't know. After all, whose job is it to check how many pages are adversely affected by a change?
I was right. The X5 page doesn't have a configurator option, probably caused by the broken JS link. The X3 page does, but you only see it if you keep reloading the page until the video at the bottom left is replaced by that link. Who'd have thunk…
Conclusion
This website fails me as a consumer. Many of the descriptions are hard to comprehend, even where the English is fine. I didn't see all the features until I configured a car.
When I built a BMW car configurator back in 2000, I made it obvious how to navigate forward or back, and the price updated as I changed the options. Perhaps it's OK to keep the prospect in suspense and lose a few in the process, but that annoys me.
The use of frames might save the cost of the configurator software licence for each country, but it adds to the slow loading. I'd hate to estimate the revenue impact of the technical issues. I see at least a month's worth of work for someone to find and fix all the issues on this site.

A casual user would have given up much earlier.